The Resident Evil 4 Remake, although still sticking to the original, has a number of changes that have been made and Ashley is one of them.
Given the countless changes fans have experienced in Resident Evil 4 Remake in terms of plot, gameplay, and characters, one of the notable points of this game compared to the original are the changes to Ashley. Graham. Most of the time that gamers experience the content of part 4 of this Resident Evil series is spent protecting her as Leon Kennedy, many players have hoped that Ashley might be improved by Capcom to less annoying and more repetitive and more enjoyable to interact with Leon.
Fortunately, Capcom seems to have listened to the fans' hearts and so Ashley has made very positive changes in the Resident Evil 4 Remake version to help gamers reduce some prejudice about the character. this object.
5. Practicality and rationality
One of the most impressive aspects of Resident Evil 4 Remake is the realistic nature of the characters and the way in which they behave. In particular, Ashley is one of the most realistic and understandable depictions of how a normal person would react and behave in the horrifying situation both she and Leon find themselves in. When the player is attacked and they have very little health left, Ashley will scream in a very realistic panic showing her true fear of Leon's possible death as she realizes that that means her life will also end when the Las Plagas parasite is in full control.
In addition to Leon Kennedy, a highly trained, experienced and specialized agent in Resident Evil 4 as opposed to Resident Evil 2, any individual without a high level of defense would be extremely frightened. against violent and dangerous monsters under control that roam around. This is one of the big pluses that explains why fans feel closer to Ashley's character as a likable and approachable character as opposed to the original version.
4. Good sense of humor
In addition to the character's close connection to reality, Capcom will certainly add humorous lines to Ashley Graham, sometimes a bit close to Leon's sarcastic and teasing lines. In her playable segment in the game's castle section, which has been completely revamped, Ashley is clearly terrified and spooked by the knights chasing her as she tried to return to Leon but ignored the situation.
After assuming she could rest after having just escaped their clutches in the library, Ashley expressed her disappointment by saying "Didn't I just say I'm dead?" after stumbling upon another group of enemies. This is just one example of the many moments Ashley displays a cheerful and positive attitude towards Leon in some of the game's tense and dangerous situations and is a perfect testament to the growth Capcom has spent. for this character.
3. Reliable
Both obeying Leon's orders during his temper and maintaining his demands when Leon is not around, Ashley seems to have become much more reliable this time around. Instead of cowering in fear of being left alone in her aforementioned playable, Ashley does her best to fend off enemies and unlike in the original, the developers have Deploying a light allows the player to slow the knight for a few seconds, giving her more time to prepare for her escape from impending dangers.
>> MORE: Lien Quan Mobile: [Fact] Tel'Annas is a champion that turns a player's weakness into a skill
These additions have helped make Ashley more likable and less offensive, different from what the original was built to make many gamers feel more disgusted with this character.
2. No longer an obstacle for gamers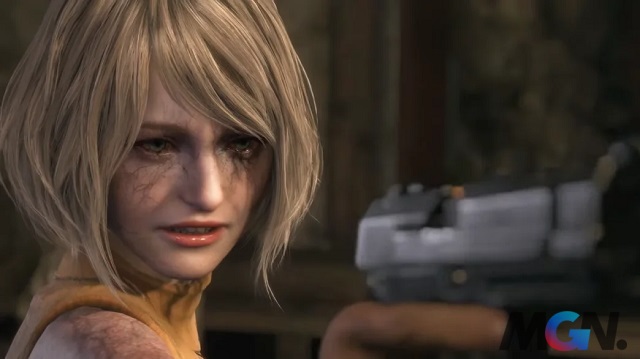 In the original game, gamers will be aware that for the most part, every journey with Ashley Graham is like being forced to control her every move and movement. When an enemy is in the way or if Leon is aiming in her direction, she will crouch without making any moves until the enemy is defeated, often resulting in the player having to retry the stage. play many times.
In Resident Evil 4 Remake, Ashley maintains some of the same elements as in the original, but depending on the command given, Ashley will quickly get out of the way when enemies are hunting her or after Leon tells her to. that she is in the way. This greatly benefits players in controlling encounters with Ganados and other enemies, as they no longer have to worry about Ashley getting in their way like in the original, with systems Added AI makes NPCs and characters more responsive and aware of things.
1. Useful
Of all Leon's battles in the original, there aren't any encounters where Ashley proves to be a character capable of helping Leon. While fighting the first group of knights known as the Armaduras in the castle, Ashley uses the same flame-like lamp to freeze enemies in their path for Leon to take down one by one. This is very drastic compared to the previous characteristics shown in Resident Evil 4 (2005) and it presents a more confident Ashley who is not afraid to help gamers in any way he can.
Capcom tried so hard to find the perfect balance between being a helpful Ashley without letting this become such a heavy focus that she turned into a partner, which is present in Resident Evil 5 with Sheva alongside Sheva. with Chris. It ensures that the game stays true to the original game, in which gamers will need to prioritize protecting a weak girl instead of trying to complete her mission.
Don't forget to follow MGN.vn to update the latest news about the game right now!