Splash Art skin 'Veera – Arum' in Valor Pass 50 (Valentine 2023) of Lien Quan Mobile is making gamers "stand still".
Recently, Garena has released a series of Splash Art to 'tease' new costumes of Mobile Union, including Christmas skins, Lunar New Year skins and even skins in Mission 50 (Valentine) ) belongs to the duo Veera – Arum.
The appearance of the skin to celebrate 'Valentine's Day' in 2023 is making the gaming community extremely excited by its beautiful design and looks extremely sweet.
>> MORE: Lien Quan Mobile: Synthesize Splash Art with all the latest skins in 2023
New skin image of Arum
The favor that Garena has for Arum has "far exceeded" the common ground of Support cards in Mobile Alliance. With the launch of the SSM 50 skin this time, her total number of skins is really huge, even above the other main damage champions.
For those who don't know, Arum is a rare SP that owns a Limited SS skin. Along with that, there are many other beautiful skins such as: Grizzly Queen Arum, Sacred Forest Guard Arum, Angel Angel Dance Arum, Lucky Rabbit Arum.
In terms of strength, Arum possesses good protection, great damage, and strong recovery, so it is always the first choice for a support position.
New skin image of Veea
The 'evil girl' Veera in Valentine's costume does not seem to be as gloomy as the usual 'vibe' anymore, instead it has a luxurious, both magical and attractive aura that makes the gaming community not helpless.
Although not Garena's 'pet' compared to other female generals, in general, Veera still has a lot of beautiful skins that are worth considering for gamers to choose.
In terms of strength, Veera is a pure Mage general but possesses the play of an Assassin hiding in the dust, catching the genuine mainstay. For a gamer who knows how to play, Veera will definitely make the enemy team's main team go up to the countdown board in an instant thanks to his huge source of damage.
Some comments from the gaming community about the Valentine skin of 'couple' Arum – Veera
In general, everyone is satisfied and compliments the design of this year's Valentine skin duo because it depicts the beauty of these two beauties in Lien Quan Mobile: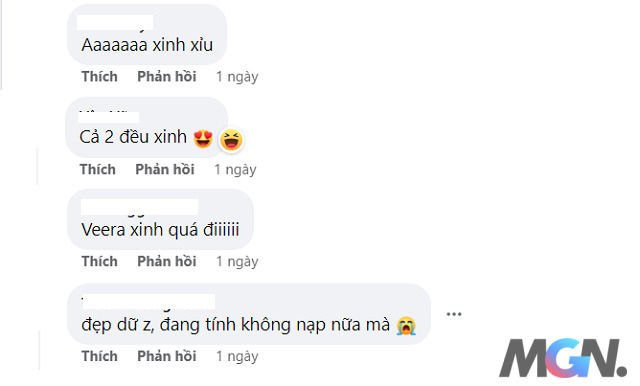 The latest and most interesting information about Arena of valor will be continuously updated and reported by MGN.vn every day. Don't forget to follow us regularly so you don't miss out!