Family image in Avatar: The Way of Water – Photo: DISNEY
According to CNBC, Avatar 2's opening box office failed to meet expectations, but international ticket sales still raise hopes that the film will attract a large audience in the coming weeks.
After the first week of release, James Cameron's film grossed $ 134 million in North America, lower than the forecast of $ 175 million of experts, and below Disney's expectation of $ 135-150 million.
Internationally, Avatar 2 grossed $300.5 million, bringing the film's worldwide opening to $434.5 million.
Avatar Animation: Flow Of Water
In Vietnam, the film earned 70 billion VND in the first week of release. Avatar 2 is the third highest-grossing film at the Vietnamese box office ever (after The Godfather and Avengers: The End).
Paul Dergarabedian, a senior media analyst at Comscore, said most people love the movie so experts have given the forecast high numbers. However, the mixed opinion made Avatar 2's box office performance unsatisfactory.
But this expert still forecast: "Avatar: The Way Of Water has many advantages that guarantee the prospect of great long-term success globally."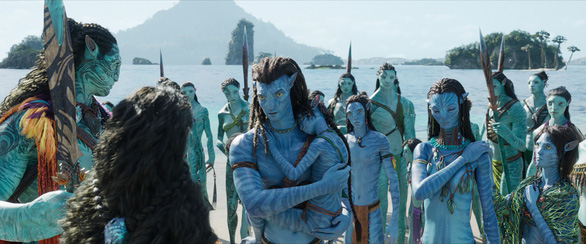 Emotional avatar with family story – Photo: DISNEY
In China, the film grossed $ 57.1 million after 3 weekends, showing that this is still a large market that is difficult to ignore for blockbusters.
13 years ago, China contributed $ 265 million to the revenue of Avatar part one.
Compared to that time, today, this market has grown tremendously. In 2019, China was the world's number one film market with a total revenue of 8 billion USD.
Despite a disappointing opening, Avatar 2 is still expected by analysts to reach a record for total box office.
Similarly, Avatar (2009) grossed only $77 million in its opening weekend but has since gone on to become the highest-grossing film of all time, being re-released several times.
Avatar 1 has an amazing record at the box office in 234 days. The first screening grossed $760 million in North America and over $2 billion in other markets.
The film is still forecast to reach a long-term sales record – Photo: DISNEY
Shawn Robbins, media analyst at BoxOffice.com, said: "Although the film opened to theaters with lower-than-expected results, it's important to emphasize the long-term outlook.
Audiences are showing great interest in watching movies in premium format." Premium formats such as IMAX, Dolby Cinema and Motion account for 62% of total ticket sales.
With the Christmas break coming up and not many big movies competing, Avatar: The Way of Water is forecast to be strong at the box office.
Original post: https://gamek.vn/avatar-2-thu-434-trieu-usd-mo-man-ky-tich-hay-that-vong-178221219144258999.chn
Original Post: https://otakugo.net/avatar-2-thu-434-trieu-usd-mo-man-ky-tich-hay-that-vong-117852.og
Website: https://otakugo.net/