Not apart from the expected results, SofM will be the one to lead the Vietnamese League of Legends team to battle at the 2022 Asian Games in Hangzhou, China.
According to the latest announcement from the Asian Electronic Sports Federation, League of Legends along with 6 other games will become the competition category of ASIAD Hangzhou 2022. Accordingly, the countries are represented. participating in eSports at the upcoming Asian Games are trying their best to prepare carefully.
After the not-so-successful, if not forgettable, MSI 2023 period of GAM Esports, Vietnamese LoL fans are placing a lot of hope on this 19th Asian Games. With the exception of the LCK and LPL regions, which have claimed their dominance for too long and are very difficult to beat, we can absolutely aim for a place in the top 4 when only one opponent is considered to be competitive. The main picture is Taiwan. You can watch the competition of League of Legends starting from June 15 in Vietnam time and lasting until June 22.
>> MORE: BLV Hoang Luan talks about the difficulty of recruiting ASIAD: Hard to please everyone!
About Le "SofM" Quang Duy, League of Legends lovers not only in Vietnam but around the world are probably no stranger to this talented young gamer. In terms of age, Duy Cau Giay is probably not older than other players still playing, even smaller than GAM's current jungler – Levi. However, that is no longer important when he has proven his talent and bravery on the field. Forged in the top-notch but also harsh League of Legends environment like the LPL along with his full experience in the international arena, no one can deny the talent of SofM.
Tonight, May 26, SofM confirmed on his personal facebook page that he will attend ASIAD 2022 as the head coach of the Vietnamese League of Legends team. "I – Le "SofM" Quang Duy – is extremely proud and honored to be the head coach of the Vietnam League of Legends national team at Road To Asian Games 2022.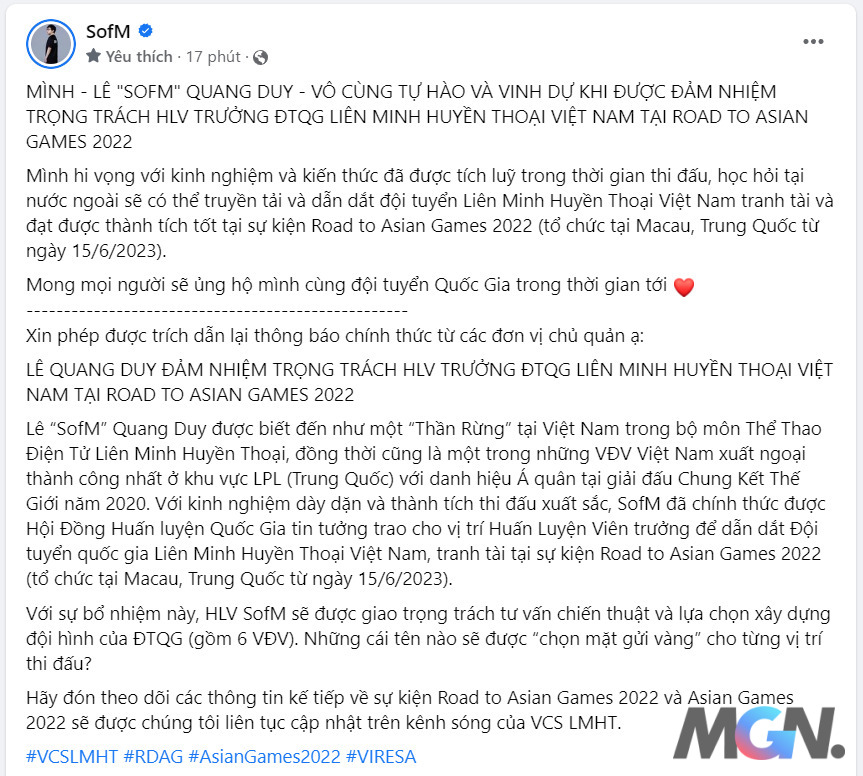 With the title of the first and only Vietnamese to participate in the Finals of the League of Legends World Championship and win the runner-up, SofM is fully capable of shouldering this position of head coach.
Follow MGN.vn to update the latest information about SofM and the players at ASIAD 19!