These are the 5 best LoL players in the world, this is confirmed and statistically by the ChatGPT technology software itself.
TheShy (Kang Seung-lok)
TheShy (real name: Kang Seung-lok) is an elite top laner who was a member of Invictus Gaming (IG) from 2017 to 2020, during IG's quest to win the world championship at IG. League of Legends 2018 tournament, TheShy contributed a lot.
With his outstanding achievements, good fighting ability and class gaming skills, TheShy's name rose to become one of the top players and a symbol of excellence in the gaming industry. League of Legends.
Doinb (Kim Tae-sang)
Doinb (real name: Kim Tae-sang) is a famous player in the LoL community. Main playing position of Doinb is the Mid Lane. Doinb is known for his unique and innovative playing style, he has been a member of the FunPlus Phoenix team since 2019 and has contributed significantly to the team's achievements, especially the championship in 2019.
With his dynamic personality and smart gaming ability, Doinb has become one of the top and highly regarded players in the village. League of Legends. He is a talented player and brings creativity and entertainment to the community.
Caps (Rasmus Winther)
Caps (real name: Rasmus Winther) is considered one of the brightest stars of the European E-Sports field, he is an extremely versatile player who can play effectively in many different positions. . Caps' main position is Mid, and his versatility and versatility by many champions have helped Caps win many championships and impressive achievements in his career. He was a member of the Fnatic team from 2018 to 2021 and currently plays for the G2 Esports team.
With his impressive ability to play on the field, Caps is highly appreciated for his ability to fight, attack situations and create great pressure for opponents. He often chooses champions that can explode, attack, and control the game.
MORE: League of Legends: Summary of champion 'balanced' changes in version 13.10
Uzi (Jian Zi-Hao)
Uzi (real name: Jian Zi-Hao) is a player League of Legends famous and influential in the gaming community. He was born on November 7, 1997 in China. Uzi's main playing position is Gunner (ADC). He has played for many top teams in the world such as Royal Never Give Up (RNG) and Oh My God (OMG).
With exquisite playability, Uzi has shown superiority in keeping distance, dodging attacks and dealing damage continuously in his matches. He is considered one of the world's top super snipers.
Faker (Lee Sang-hyeok)
Referring to the Korean LoL icon, it is impossible not to mention Faker, His real name is Lee Sang-hyeok. Faker holds the main position of Mid lane and has been playing for the T1 team (formerly SK Telecom T1) from 2013 to present.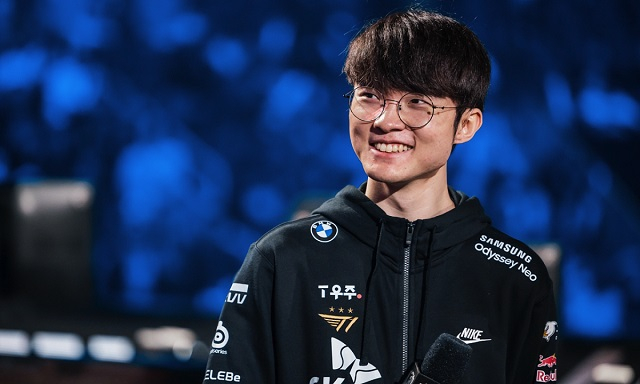 Faker known for his superb play, massive influence, and incredible laning throughout his career. Faker showed his ingenuity in controlling the game thanks to his excellent play. The guy who brought T1 to such heights as championships around the world.
Faker Not only is he admired for his gaming talent, but also for his humble and loving personality. He has become a symbol of excellence and an inspiration to many League of Legends players around the world.
Don't forget to follow MGN.vn every day to update more latest information about League of Legends you guys!