Despite missing the appointment at RDAG, SofM – the head coach of the Vietnamese team has just had an impressive achievement at the 2023 Naraka Asian tournament.
2023 is a year marking a turning point for SofM when it decided to stop playing abroad to return to the country to establish a career. Although he did not play, this was an opportunity for him to try many new roles, one of which must be mentioned as the coach of the Vietnam League of Legends team.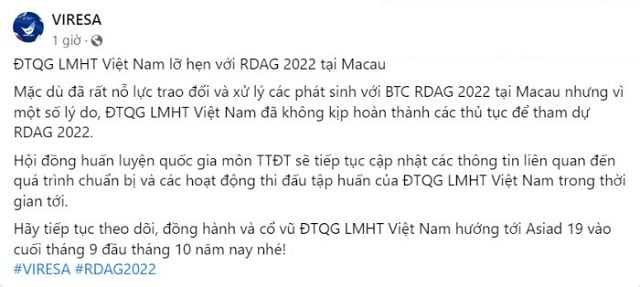 As planned, in September, he will be with the members of the Vietnam League of Legends team, but due to Visa problems, the team has to miss the RDAG friendly tournament. This is really sad news even though our opponents are only teams in Southeast Asia.
But it is not only the Vietnamese team that cannot participate. As the Korean team announced not to participate from the beginning of the tournament, while China also only launched a relatively weak line up with WE's lineup. Similarly, we have a Taiwanese team with a not-so-strong squad, so the fact that Vietnam's League of Legends team missed the tournament doesn't mean too much and doesn't leave too many consequences because we are still participating in ASIAD as usual. .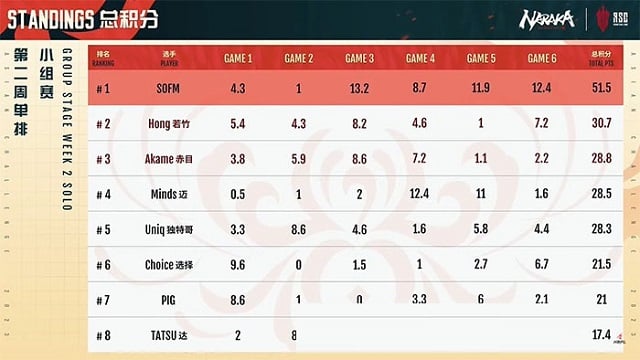 Another interesting information is that the head coach of Vietnam Tel SofM is playing in the Naraka tournament in Asia with a solo format. Previously, due to a connection problem, SofM had to miss 2 games and finished its part with 2nd place. It can be said that despite missing the RDAG friendly appointment, SofM was still able to play 2 weeks of the tournament. fight you are participating in.
It is not surprising that SofM has an outstanding display of individual skills of a Game King. Although the locomotive was not too favorable, SofM played extremely explosively in the last 4 games with an average of 10 points/game, ending the 2nd week of competition with the top 1 position. His score even dropped. 20 points away from the second person. It's really a spectacular acceleration coming from SofM's position.
Photo: Synthesis