With just over a week to go until its release date, Dead Island 2 has revealed the PC configuration required to play the game at specific settings and resolutions.
With Dead Island 2 on the way, the development team at Dambuster has come up with the PC configurations that gamers must meet in order to run the game at specific resolutions. While the specs can be quite high at higher settings, Dead Island 2 has listed four presets ranging from 1080p to 4K resolution to suit the needs of PC gamers.
Last year, Dead Island 2 had an outstanding debut at Gamescom 2022, after nearly a decade of development since the first trailer was announced, with the developers changing many times during that time. . Ultimately, Dead Island 2 was picked up by developer Dambuster Studios, a subsidiary of publisher Deep Silver.
Ten years after the events of the first Dead Island happened, the US government quarantined the state of California to stave off the threat of the undead, only to have more serious problems arise. In Dead Island 2, players will explore the zombie-infested hidden ruins of Los Angeles as one of six characters known as Slayers, each with different innate skills to try. However, before PC players can get their hands on Dead Island 2, they need to first consider whether their machine meets the required configuration.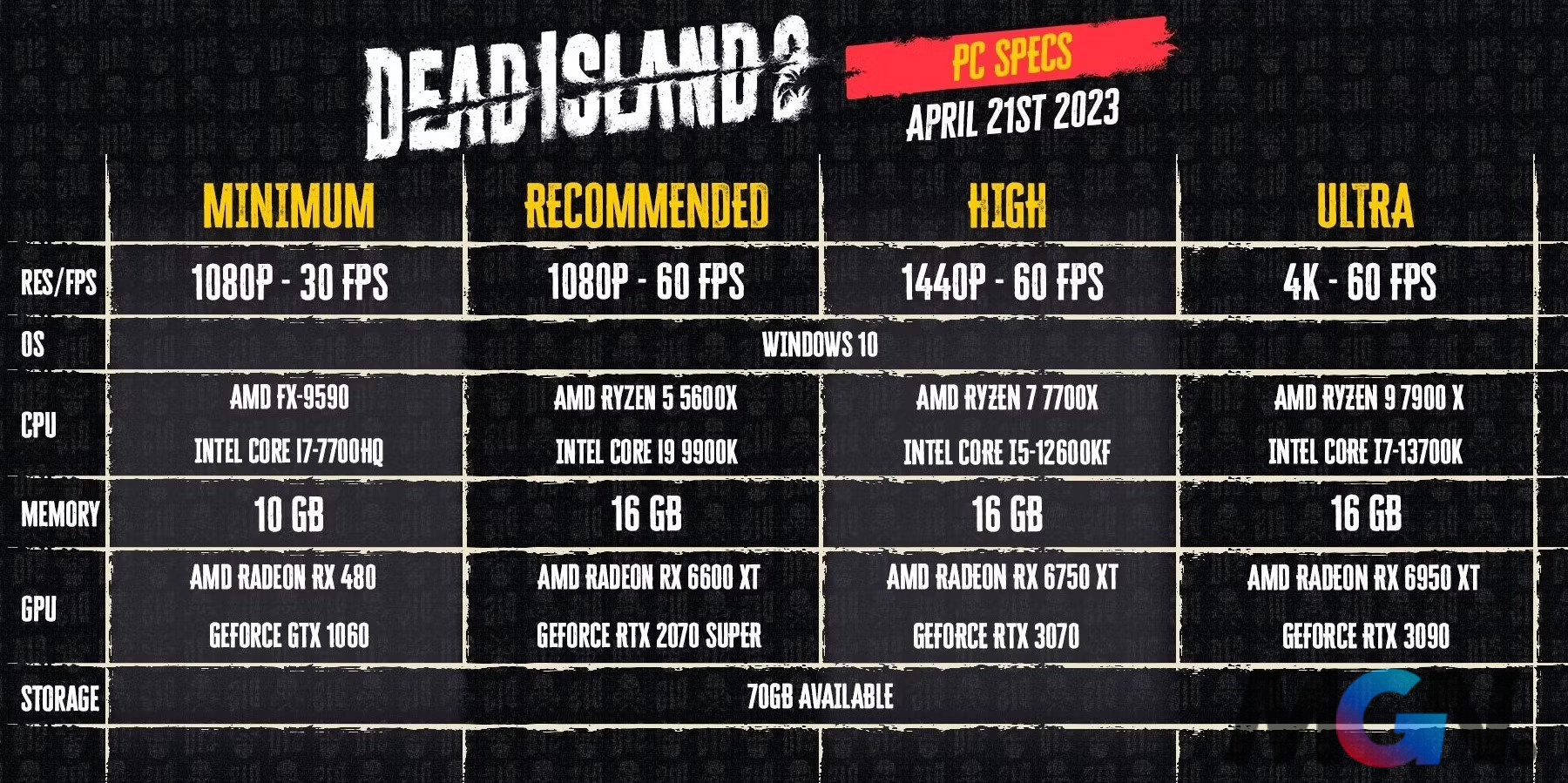 On social media, Dead Island 2 listed the necessary requirements to play the game at a minimum resolution of 1080p and a frame rate per second of 30 (FPS). The game requires a minimum of Windows 10 operating system and at least 70 GB of space and only supports graphics cards that support DirectX12. With some parts on sale, it will be easier for players to meet the specifications to ensure a fun and epic experience in Dead Island 2 on PC.
>> MORE: League of Legends: Top 5 most beautiful 'rabbit' theme costumes
At a minimum, players will need 10 GB of RAM, an AMD FX-9590 or Intel Core i7-7700HQ processor, and an AMD Radeon RX 480 or GeForce GTX 1060 graphics card, although this suggests Dead Island 2 is capable. ability to run on older hardware, but MGN thinks gamers should prepare for a bit better hardware than this configuration to ensure a smoother experience.
Although the game is an Epic Games Store exclusive on PC, it remains one of the most anticipated titles of 2023 on the platform. While the game still has high and ultra-high graphics settings, Dead Island 2 can utilize timed enhancement through AMD's FidelityFX (FSR2) ultra-high resolution technology. By setting the game to display at a lower resolution, the player can then enable FSR and render the game at the target resolution without any FPS drop.
Although the release date has changed from before, Dead Island 2 will release next week, earlier than originally planned. While the community remains hopeful that the title's required PC configurations won't be on par with Square Enix's Forspoken, only time will tell what Dead Island 2 will look like until its actual launch date.
Don't forget to follow MGN.vn to keep up to date with the latest game news!