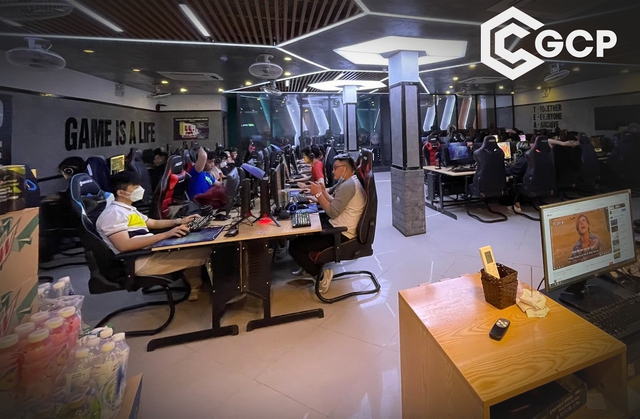 Machine rooms in Hanoi are bustling with customers in the summer of 2022 (GCP photo)
So from a machine room business perspective, how to attract a large number of customers at such a time right after the epidemic? What's special about the service of the big cyber in Hanoi in particular and Vietnam in general to learn and apply to your computer room?
Let's find out in the article below why computer room management software like GC Platform (GCP) is the key to the success of today's Cyber ​​Game business models.
Provide a variety of games with the best experience
To be able to meet most of the needs of many different groups of gamers, large Cyber ​​Game labs are expanding their investments to meet the needs of each group of gamers with a variety of games from Client Game, Mobile Game, Web Game.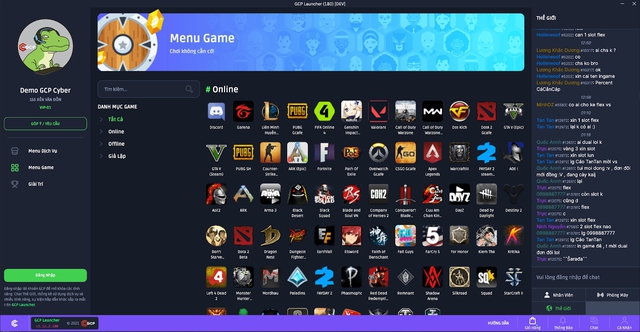 Countless games on the market today from Esport Game to NFT Game
Providing a variety of games for customers also entails a problem for computer room owners, which is updating the installation and updating games as quickly as possible for customers.
On average, a computer room will have from 80 to 150 workstations, if the game update is optimized and processed in the fastest way, it will help the machine rooms operate more smoothly, avoiding customers' problems. "Sitting 1 hour to update the game takes 30 minutes" often occurs in small and medium computer rooms today.
Enhancing the accompanying food and beverage services for customers
Gone are the days of shabby, secret game shops in the space of only a few tens of square meters. Currently, the machine rooms are always invested with hundreds of terrible machines, air-conditioners 24/7. Not only that, the machine room owners also often offer preferential combo packages with attractive dishes. Even in some engine rooms, the fact that the food is delicious is also taken by gamers as an option to "root" to plow rank with their friends.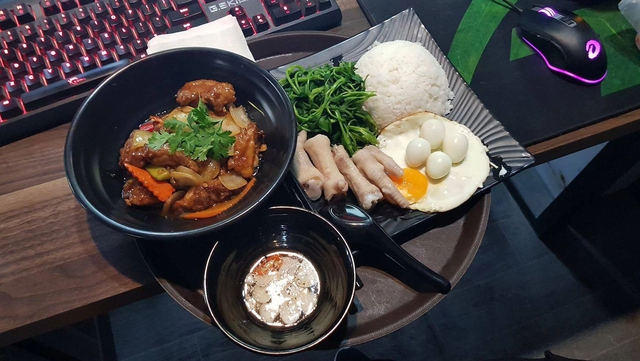 "Delicious rice, sweet sticky rice, ready monster" is the favorite combo of gamers
In order to develop food and beverage services as their brand strength, the machine rooms always invest in a separate kitchen, combined with diversifying the eye-catching menu order. Customers just need to click to order food and drinks and when the processing is complete, the staff will bring it to the table.
At the present time, machine rooms are prioritizing solutions using machine room operating software to help optimize operating resources and improve Cyber ​​Game's services. GC Platform (also known as GCP) is one of the best machine room management software at the moment with its exclusive features and features.
GC Platform (GCP) – The top Cyber ​​Game room management software today
With the advantage of being a latecomer, GC Platform (GCP) has learned a lot from previous software such as Gcafe or CSM. The early recognition of the need to provide services of Cyber ​​Game rooms to users has helped GCP develop and produce a comprehensive model to help machine room owners simplify the tasks of operating multiple machines or multiple machines. machine room chain including GCUpdate and GCMenuX.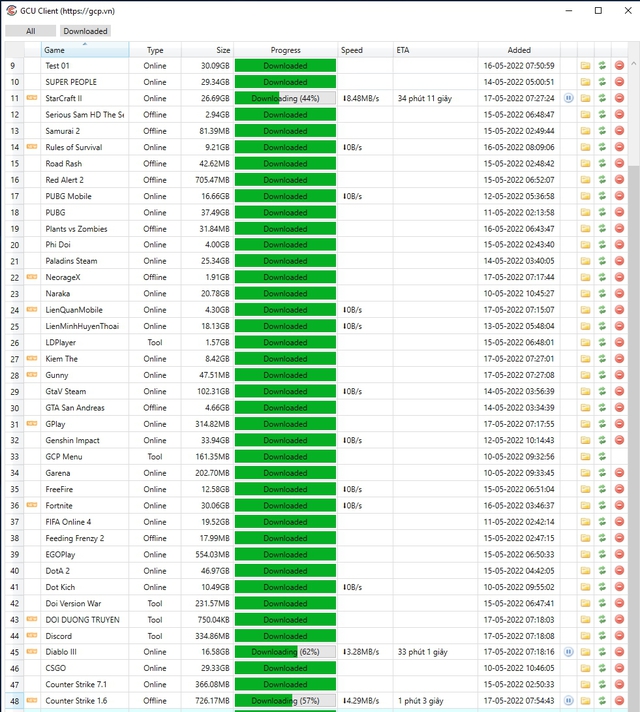 With GC Update, machine room owners can easily update hundreds of games
GC Update always updates hot games, new trends of the market, used by computer room owners because of its excellent cross-platform game compatibility from Client Game, Web Game, Mobile Game. Not stopping there, GC Update also supports installing and updating NFT / GameFi games – a new game trend in 2021, quickly and conveniently in a single note.
With GC Update, updating games will no longer be a fear of computer room owners because from now on, the update will be done automatically, systematically and controlled in a methodical and large-scale way, ensuring ensure the customer experience "whatever you need" every time you play a game at Cyber ​​Game.
Not only that, GC Platform also provides GCMenuX solution with an order service menu integrated with management tools to help machine room owners do business in food and beverage services more efficiently and professionally.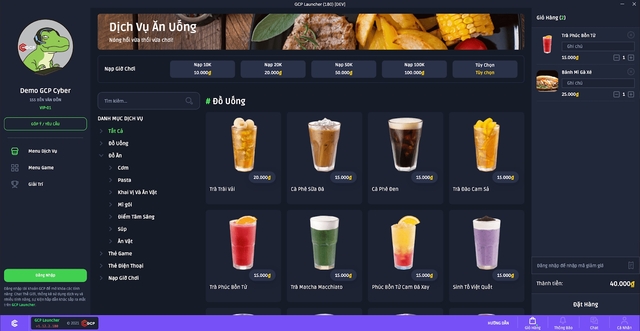 GCMenuX's attractive and eye-catching food menu interface
GCMenuX supports machine room owners to design an attractive dining menu with functions such as helping cashiers to track orders easily, control input and output effectively.
In addition, with a massive system of communication channels, a wide network of partners, and plans to develop the community and organize its Esports tournament, GC Platform also helps computer labs locate and develop their brands. their own with engine room events, gamer gratitude events, ..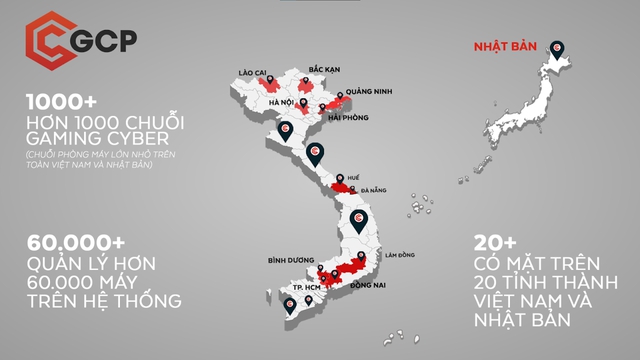 GC Platform (GCP) owns a strong game community network
With digital marketing channels like Facebook being difficult to deploy with high bids, GCP will be a communication marketing plan used by computer labs in 2022.
After 5 years of being trusted, GC Platform (GCP) has become the most comprehensive computer room management software brand in Vietnam with a wide range of cybergames and computer rooms. Many functions such as automatic game update, menu / order management system, … have become effective tools to help machine room owners break through revenue and confidently invest in upgrading the computer room business system. in this summer 2022 peak season.
Learn more about GC Platform – The most comprehensive machine room management software 2022 GCP at
Facebook | Website.
https://gamek.vn/com-ngon-xoi-ngot-monster-san-sang-va-nhung-tuyet-chieu-giup-nhieu-cyber-game-hien-nay-thanh-cong-tro-lai-20220518143730022.chn