The issue of cards will be nothing for the Full Danger squad in DTCL season 8.5 when the flexibility has improved significantly compared to the previous season.
Playing cards is an annual problem when playing DTCL, the best solution can only be to choose to build a 'flex' squad, 'all music dances'. In the current meta, one of those flexible lineups is Full Danger.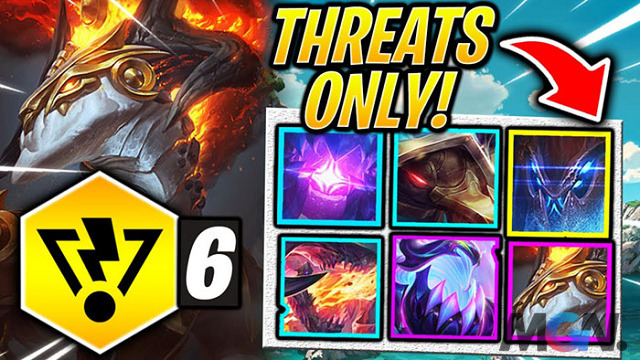 >> MORE: DTCL: Experience 'extreme' damage from the Quick Draw reroll squad
Guide to deploying the squad
The player's job is very simple, instead of thinking about which champion to pair, just roll out Danger. So this is an extremely flex lineup that doesn't follow a single pattern from the start.
Use formations of Magicians, Duel or even Thieves to start and hold items. Although it is dependent on actual combat for more AD or AP equipment, it is possible to keep some Danger units if there is a chance to upgrade.
At level 7 it is possible to roll slightly after the 2nd Core pick round, because this is when the opponent's direction is clearly shown, so you can safely change cards if you are contested. Moreover, this also helps to capture Danger pieces (even upgrade if you get 3-4-5 Danger gold Hero Core).
This is a time when there are few cards, so gold-plated Morgana or Rammus is not a bad idea. Since Cho'Gath is gone, you have to level up to 8 to find Aatrox as the 2nd main tank after Rammus, not the full reroll Rammus – Cho'Gath game at 7 like before.
Because Morgana is a secondary mainstay and also plays a controlling role, players should save equipment for the mid-game:
Aatrox has very 'prestigious' Hero Cores, so just get them if you have them to make the tank's lineup as strong as possible, (if there are too many spells, you can add Guardians).
After all units have 2 stars, consider continuing to level up and add 5 gold 2 star champions or try to reroll 4 gold Danger to 3 stars.
Note, although the squad is very strong, but only in the middle of the game, the later it is, the more fragile it is (due to no race/system). Therefore, the condition to enter the top 1 must be to roll 3 stars.
Select Hero Core. Normal Core
– Aatrox's 2 Cores, Aurelion Sol's Approach Velocity.
– Pandora Queue, Threat: Max, Hunt, Auto-Spin,…
Finally, in order not to miss the hottest and latest content about DTCL Don't forget to follow MGN.vn regularly!