After publicly pointing out the 'leakness' of Empowering Swords, Riot Games has buffed Garen's Carry Core in DTCL version 13.7.
Originally a quality 4 gold piece of DTCL, but Garen owns a disproportionate Carry Core, called Empowering Sword. This has been acknowledged by Riot Games itself with the evidence that the win rate is too low at the moment.
So, the balance team was forced to 'step in' to buff Garen's Carry Core in update 13.7. However, the stats of Cores of Swords are still no better than average across servers. With more than 600 games used, this Core only reached the top 4 37.8% and the top 1 only 7.69%.
A lot of TFT players are disappointed because the effect after the buff is not as expected.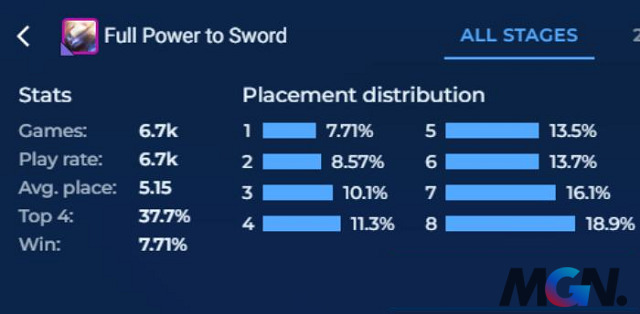 >> MORE: DTCL: The most 'lewd' Hero core in season 8.5 was pointed out by Riot Games itself
Of course, Riot Games was also quick to respond to the above issue. According to them, players should not pay too much attention to statistics. Known as the Carry Core, but Putting Strength into the Sword is very 'dignified', situational so it is still effective if used correctly.
According to Riot Mortdog: 'Hero Upgrades of this type require a different set up, and players often see it as a secondary option. However, if used sensibly, we believe it can still deliver desirable results. For this reason, we won't be powering up cores like that, even if the specs are bottoming out. If the buff continues, the possibility of this core becoming too strong is very likely.'
Besides the disparaging comments, there are also many players who are satisfied with the current effectiveness of the Carry Garen Core. So, to experience, don't be afraid to use the main Garen squad once!
Finally, in order not to miss the hottest and latest content about DTCL Don't forget to follow MGN.vn regularly!