The horror of "immortal" Lee Sin was once again recreated in DTCL season 9, and the champion that was succeeded this season is Taric.
In some versions of season 8 DTCL, there was a scary situation when the "immortal" Lee Sin was re-enacted. This comes from exploiting Hero Core's bug when using two versions of Lee Sin in the same squad. When this happens, the two Lee Sins will constantly provide armor to each other, forming a tank line that is difficult to overcome and almost impossible to defeat – just like the meaning of "immortal". This caused great discomfort and highlighted Lee Sin in the match, creating a haunting experience for players. DTCL season 8.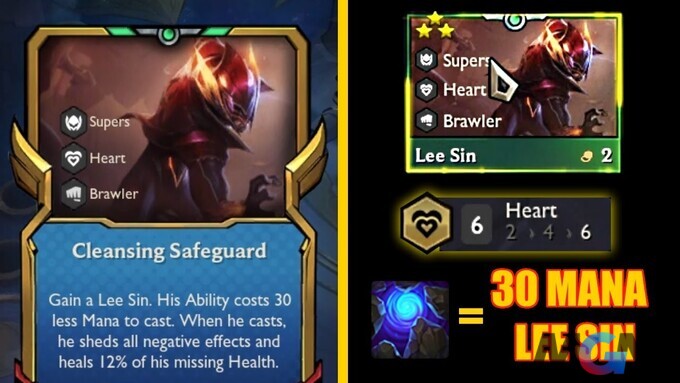 In DTCL season 9, a similar bug has reappeared in a new form, and this time the champion that benefits from it is Taric – one of the strongest tanks currently. According to the shares from some gamers, when two Tarics use skills next to each other, they will completely absorb the damage dealt and make both and all surrounding generals within the skill's range become stronger. should be immortal for that time.
>>See more: League of Legends: Skill assessment of Naafiri: Assassin is easy to play, has the potential to be a "200-year" champion
This creates an extremely difficult situation and highlights Taric's strength, while creating an unbelievable experience for the player. DTCL season 9.
Several players have reproduced this error and here is one of them
This bug can be caused by damage input being blocked and bouncing back and forth between the two Taric's shields. As a result, that damage is completely negated and doesn't hurt anyone in the match, including Taric and surrounding champions. This means that no matter how much damage the opponent has, 2 Taric and other champions will not take any damage from the enemy.
>>See more: LHMT: Gumayusi is gradually maturing over the years, ready to be the future leader of T1
The full Chess gameplay with damage mains that increase over time like Garen, Aphelios, Zeri is very strong and popular in the current meta. So few players are willing to risk this 5v5 losing interaction. After the duration of the next ability expires, the two Tarics return to their normal tanks and can be attacked and killed before using their next ability. This creates an element of risk and opportunity for the opponent to counterattack.
Even so, the fact that the 2 Tarics interact with each other to create a buff effect for the whole team is enough to cause some confusion for the other side of the player, but Riot Games will definitely monitor and edit this interaction. . Please follow MGN.vn page to update the latest information!