Along with the climbing season 8.5, many DTCL gamers have expressed their interest in season 9 and continuously speculated about it.
Many 'olds' of DTCL all believe that season 9 will bring us back to the 'origin' – Based on season 1 and expanding it with the most prominent mechanisms recently.
A pretty reputable 'hint' to confirm this comes from a video announcing important changes in 2023, the units of season 1 were suddenly revealed by Riot itself and not the video in the past. Instead, they're present on DTCL's current game board and include some of the more recent mechanics (you can see the Upgrade Core column) on either side: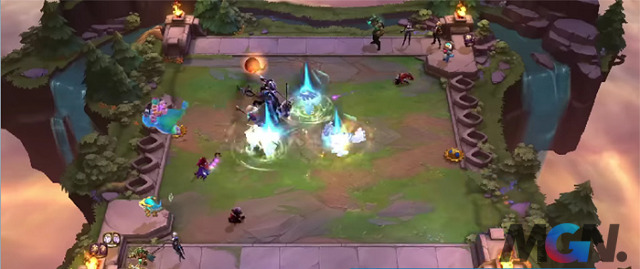 Along with that, Riot Games intentionally used Runeterra's map for the new season (season 9) in the 'teasing' image of the schedule of TFT in 2023-2024. Accordingly, it is not excluded that the new season will revolve around the history and legend of the land of Runeterra (which is considered close to season 1 – Land of War).
It is known that this is because Riot Games is 'indulging' veteran gamers, specifically the desire to bring back to TFT some of the races/systems of season 1 and incorporate new mechanics.
Not to mention, a display bug (occurred when PBE testing season 8.5) once revealed some races/relations related to the lands in Runeterra (Noxus, Piltover, Void) – something completely unrelated to the owner. Good topic appeared in season 8.5. This is the basis for affirming that they belong to future seasons and the most recent is season 9.
Accordingly, the way these effects work is relatively similar to the current Janna's Weather Forecast System (random every game) with:
– Noxus: 2 gold on win (round?)
– Void: 3 Reroll Upgrade Cores
– Piltover: Remove the 'Gold' item (maybe a new item will appear exclusively for season 9).
>> MORE: DTCL: Revealing the two best pieces of equipment to start in patch 13.7
In particular, with the theme based on the LoL storyline, the generals will not appear with brilliant and colorful looks anymore, but the high probability is to return to the original appearance of season 1. Even, players have You can meet familiar people like Yasuo + Yone Solo or Irelia Swordsman – Ionia…
Finally, in order not to miss the hottest and latest content about DTCL Don't forget to follow MGN.vn regularly!