Genius Gnar is in the top of the strongest squad of DTCL currently with good damage ability and diverse mains like (Gnar, Sona, Morgana, Lulu).
If you are in need of a squad to climb, don't forget to check out the Gnar Prodigy squad that has been actively storming the DTCL in recent days.
The squad includes:
LuLu, Annie, Gnar, Morgana, Sona, Alistar, Poppy, Nunu.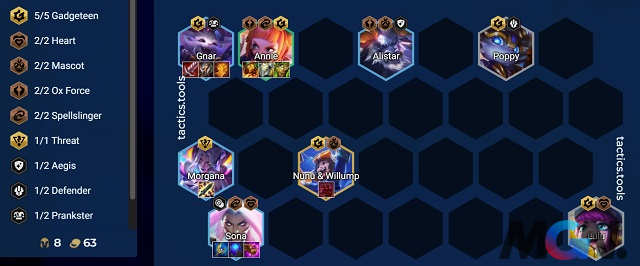 Gnar Equipment: Blood Sword, Colossal Power, Hand of Justice.
Equipment Annie: Fire Armor, Blood Armor, Animal Statue.
Equip Morgana: Electric Knife.
Equip Sona: Staff, Blue Charm, Gem Gloves.
Morgana and Gnar are very compatible, One champion deals damage to one champion, but Morgana's move is 2 units and Gnar is 1 area. When Morgana wields the dagger, champions that are struck by lightning not only have their magic resistance reduced, but their armor is also reduced. This is a very good squad when there is more equipment of the prodigy.
In the early stages of the game, players can start with a trio of Lulu – Poppy – Annie. However, to increase the ability to fight, the addition of a Guard unit like Wukong or Rell will help the squad become much stronger. Lux will pawn for Sona or Morgana.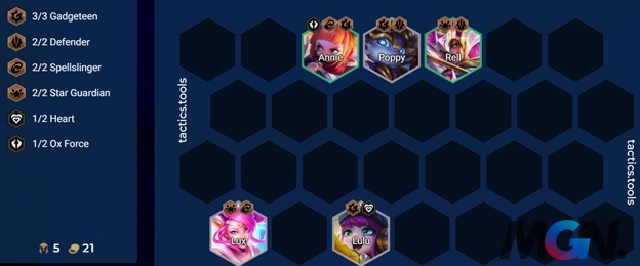 At the same time, players should also focus on building defensive equipment for Annie at the beginning of the game to enhance survival and resistance. After spending money in the 2nd round, leveling up 6 in round 3.2 to earn the necessary generals in the Morgana lineup, if Gnar has enough money, he can upgrade these 2 generals to 2 stars.
The presence of these 2 generals 2 stars will help players def good health when going up to level 7. Round 4 points is at 7 if the health is in excess and has economic potential, go to 8 and Slow Roll the generals 3 money up 3 stars. If the health is too low, please Roll Sona or Gnar to 3 stars.
MORE: https://mgn.vn/dtcl-bat-mi-3-doi-hinh-leo-rank-sieu-chay-phien-ban-1310-d31029.html
The next indispensable thing is the cores when going with this deck. The most expensive upgrade is the "Heart and seal of the prodigy" to help the squad with 5 prodigies take advantage of overwhelming equipment. Next are cores such as "Loot or New Vitality" that help Gnar survive in combat. Finally, there are "Super-Technology Implant", "Super Tech Intelligence", "Transaction Zone", "Sublimation", …
And that's all the information on how to build the Gnar Prodigy squad, hope you have a nice day. Follow MGN.vn to update the latest information about DTCL!