Let's take a look at the gameplay that is helping DTCL gamers bring back 62.1% of the top 4 rate to get a 'safe' choice in your climb!
Kayle is a character carrying the power of justice of the cosmic Demacia empire League of Legends. This general has the potential to carry a very strong team towards the end of the game, in addition to being able to 'buff' himself to immortality thanks to his ultimate. Coming to DTCL, the position of Kayle not less overbearing, but still one of the mainstays favored by family members. Proof of that is that the lineups with Kayle as the main force have extremely high win rates, especially the squad. The Butcher Reroll.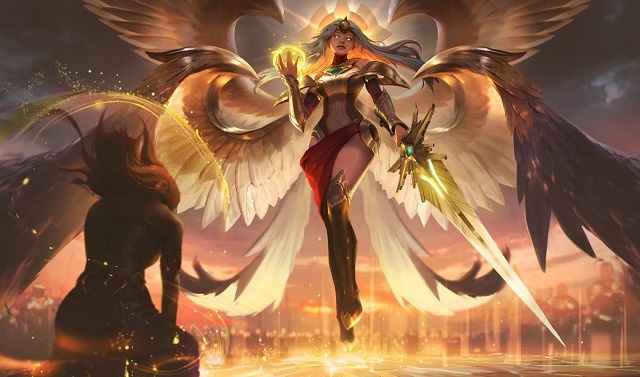 Let's learn about this super cool team together today!
Legendary
In this form, people tend to choose legends Lee Sin (20% pick rate), this legend will allow you to roll the store many times, so you can easily find strong champions in the early stages to better defend health. The second choice is Half with 18.1%, this core also makes it easier for you to advance in squad building.
Team building
First, we will open the bowl with 4 super quality 1 gold champions like Poppy, Maokai, Galio on the front wing, Kayle in the back wing. Poppy and Maokai are two units with extremely stable resistance in the early stages.
After reaching level 8, you should use gold to upgrade Kayle, Maokai, and search for Heimerdinger or Aatrox. Teemo is also a strong unit at this point, you might consider tucking into a corner.
The two dear items for Kayle we need to aim for are the Rage Blade and the Gun Sword.
SEE ALSO: DTCL: The gaming community has discovered a cool combination after 13.16
Equip Kayle: 2 Guinsoo's Rageblade, Hextech Gunblade
Equip Poppy: Armored Beast Statue, Chain of Atonement
Equip Gwen: Gem Gauntlet, Colossal Power, Hand of Justice
Don't forget to follow MGN.vn to update more new information about DTCL you guys!