Not only being strongly buffed in TFT season 9.5, but also having the support of two generals like Qiyana and Nautilus, the Taliyah squad is expected to come back very strongly.
TFT season 9.5 has also officially kicked off with many interesting changes, power adjustments have given players more new choices about new squads. One of them is the card's outstanding return Taliyah Carry.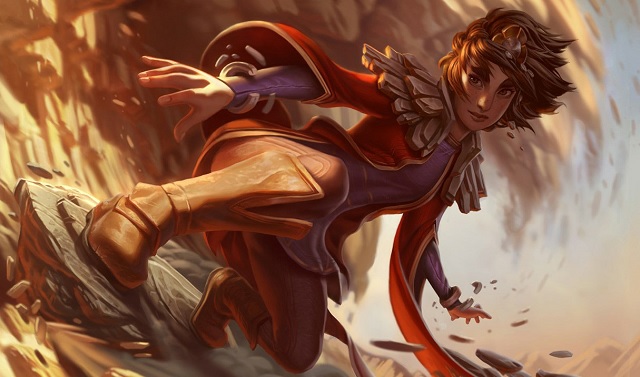 Why is this a squad worth playing in the current meta? Because Taliyah has just been given power by Riot Games, and also has the presence of Qiyana and Nautilus in 9.5 to provide 'knocking up' skills, something that brings a lot of advantages to Taliyah in combat.
New parameters in Taliyah after being buffed
– SMKN: 160/240/370 -> 180/270/410
– Passive damage: 125/190/290 -> 110/160/240
– Total energy: 0/60 -> 20/60
Team building
Full squad: Graves, Neeko, K'sante, Sett, Nautlius, Qiyana, Twisted Fate, Taliyah (can use Nasus or Naafiri to replace when K'sante is not available).
Poro Legend will be the most reasonable choice for this squad. Prepare for Taliyah to go all-in are: Witch Hat, Gun Sword, Gem Gauntlet. After you have 3 nice equipment for Taliyah, share the equipment with Sett, Qiyana, and Nautlius to help her. Add Graves to the squad to attack Qiyana.
Slowroll sword Taliyah 3 at level 6 first, then level 7 to continue to slowroll Sett or Nautlius to level 3. Suitable equipment for Sett will be Lightning Crossbow, Atonement Necklace, and Ice Armor.
Nautilus is the most sought-after 3-money tanker today, and this card is almost born to 'live and die' with this squad because it has a brave system that is similar to Sett. It not only provides a solid source of resistance but also has extremely strong control.
SEE MORE: TFT: Turn Nilah into a super "faulty" champion with 3 extremely strong and effective playstyles
Not only Taliyah Carry, Taliyah Couple of Circumstances is still a very strong squad in TFT 9.5, players can flexibly use both if the role has a suitable champion, just need 2 Sett, 2 Taliyah, 2 Nautilus with Twisted Fate added. The multi-mantra mantra is that 'getting top' is easy without question.
Wishing you success in climbing the rankings with this new lesson plan, don't forget to follow along MGN.vn to update more new information about DTCL Please!