Let's learn how to use the Noxus lineup – the post is extremely "hot meta" in DTCL at the moment to get the most effective climbing time!
The chess players may have also partly witnessed the bombardment of the Noxus squad in the recent season 9 DTCL. There are many gamers who put their faith in the potential power of the two mains Katarina and Darius and always 'spam' this squad to climb the rankings.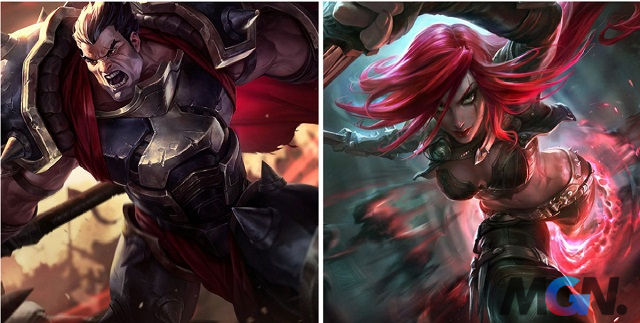 While this is a stable lineup and has made a lot of mark in the 13.3C meta, there are still many players who haven't really hit it off. The first reason is in the aspect of 'dignity', the second and also the most important problem is that their ability to rotate cards and arrange their positions is not really reasonable. Let's go together today MGN.vn Learn the variations of the Noxus lineup and how to arrange cards to have the highest chance of getting into the top 4!
The perfect late game lineup will include: Sion, Swain, Kled, Katarina, Darius, Nasus, Cassiopeia, Azir
SEE ALSO: DTCL: Suddenly Yordle was fixed soon because of the infinite gold bug, the accounts of those who experienced this did not fade
Legendary: choose Ezreal if you want to have an advantage in terms of equipment, or if your squad has great late-game potential, choose Master Yi immediately to increase stats in the late game. And finally, gamers think that the most perfect thing with this lineup is Veigar, because it can help players eliminate the Gem Gloves and Infinity Sword on the carry duo Kata – Dari.
Totally Overwhelmed will be the strongest upgrade of this squad, as it will help the attacks and skills of Noxus units finish off enemies when they are below 8% max health bonus 1% for each conquered enemy , and also gain 3 more Noxus units. Another case that you should note is Duy Tam Luan, when using this upgrade you will receive 1 Hand of Justice, and the champion holding this item will deal 25% more damage.
Gate: Bandle Restaurant, Peak, Stillwater Camp, Jayce's Workshop
SEE ALSO: DTCL: Learn tips from gamers to counter bugs Sett immortality extremely high quality
These are the placement methods that you should apply to achieve high efficiency
If you apply all of the above steps, your chances of reaching the top will be very high. According to the statistics of a page page DTCL super prestige, 'spaming' these variants of this Noxus lineup gives you up to 58/% top 4 rate. Wish you have a correct and successful method of climbing in the new versions. . Don't forget to follow MGN.vn every day to update new information about DTCL nha!