Here is a list of 'powerful' Super Hero Upgrades for gamers to win in version 13.9 of DTCL.
Gnar – Crazy Temperament
After 2 consecutive nerfs in versions 13.8 and 13.9, Gnar's pick rate in TFT has decreased. Even so, his Crazy Temperament Core is still useful when causing the target to take extra damage every time Gnar goes into battle. Thanks to that, the 'flex' Gnar Genius squad was 'on top' in a short time.
The advantage of this Core comes from the ability to increase the effect for the whole team, every unit is considered a quality secondary carry. Moreover, when clamped with the main MF with the hacker's seal, the panning speed of the duo Gnar Blue Bow – Fortune Jewel will surprise the player.
Note, players must have a really 'genuine' resistance line when using this Core (Annie 3 stars 'full item' or press Prodigy for Tank generals 4 to keep) to buy time for 2 carries to discharge damage.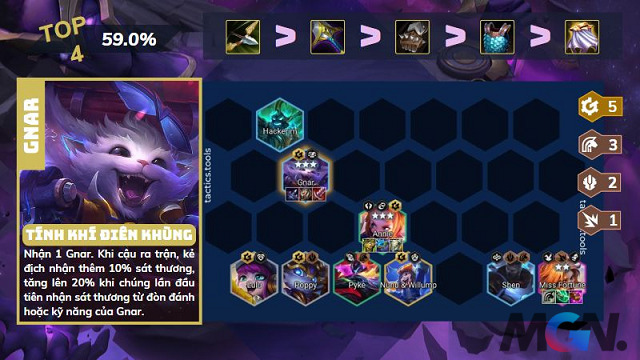 Camille – Adaptive Shield
Currently, Camille is a pretty 'famous' piece because she received a buff from Riot to serve the purpose of the return of the Outer Religion. Tactical Sweeping Stone gains 240% AD ratio plus 20% from Upgrade core, this unit can multi-target oneshot when fully equipped. Along with that, the time to disarm is also increased to 2 seconds at the last level, effectively inhibiting the opponent.
Accordingly, thanks to Adaptive Shield Core, Camille will become the 'star' of every lobby because she possesses all the perfect stats to carry the team in late. But players should still prepare a backup plan because this is a highly competitive unit.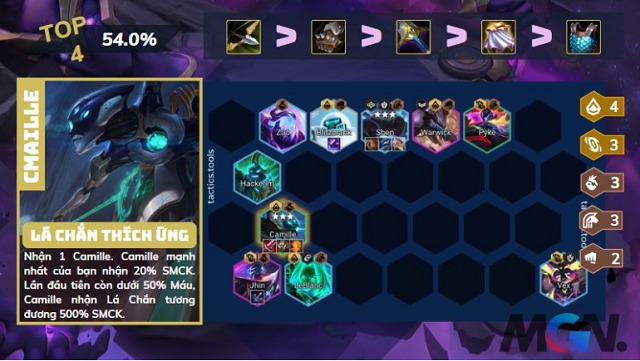 Nasus – Farm Another Farm Forever
Just get the Carry Core, Nasus will be a rare 1-money piece that can 'turn God'. Because of the low mana level, it is very simple for the player to accumulate infinite power stacks for Nasus. In combat, Nasus averages up to 5 stacks. In addition, he can also use the map, damage or resistance are all 'OK' as long as the health of the Beast is not equal to 0.
A good suggestion is to build a squad around this Core of Nasus Mascot clamped with the Void Traveler, giving the ability to 'blow' without fault (with the addition of the mecha-unit Zac, while also recovering from dark health. every 2 seconds). Nasus's 'statement' combo is a semi-tank item including Blood Sword, Infinity, Flame Cloak or Infinity Sword, Colossal Power, and Dark Cloak.
>> MORE: DTCL: Top 3 power units are not worth the price, gamers should consider carefully
Finally, in order not to miss the hottest and latest content about DTCL, don't forget to follow MGN.vn regularly!