It seems that the upcoming version 3.8 will be an exciting version with the appearance of a map and related event and an event NPC called Idyia.
The current version of Genshin Impact 3.7 is being evaluated as a rather dry version when the main events as well as the content of the version are not attractive enough for gamers. Instead, many players are looking forward to the release of the upcoming Genshin Impact 3.8 version because this will be the final version of the Sumeru chapter, revealing information related to Fontaine, paving the way for the new version. version 4.0 later, so the content related to this version is currently being interested by many gamers.
Map of Penumbra in Vietnamese
Previously, leaker Mero revealed a panoramic image of the Penumbra event map in Genshin Impact 3.8 with a scene of an amusement park nestled in the desert area. And recently, another leaker named Timing1337 has revealed a map of this event with specific locations on the map and above all, there is a Vietnamese version.
NPC Idyia, the Water Spirit in human form?
Next to the new event map Penumbra is not an uninhabited land. Here, gamers will be able to meet an NPC named Idyia. According to sources from leakers like Mero, Hutaosub77, Idyia's data name is NPC_Female_Oceanid_01_Body001_Tex_Diffuse. As such, it is possible that this NPC's nature or incarnation is related to the Clear Water Spirits, beings that have been revealed to be descended from Fontaine.
>> MORE: Genshin Impact: Gamer banned for naming Tramp Chiori, questioning upcoming character
Summary of events in Genshin Impact version 3.8
In addition, this version 3.8 also has many other interesting events, which can include Kaeya's Companion Mission or the event of giving away a Layla character for free. It seems that Kaeya's Companion Quest will be a free outfit for this character, similar to the previous Ningguang. More details about other events, you can see more in the photo provided by Genshin Intel.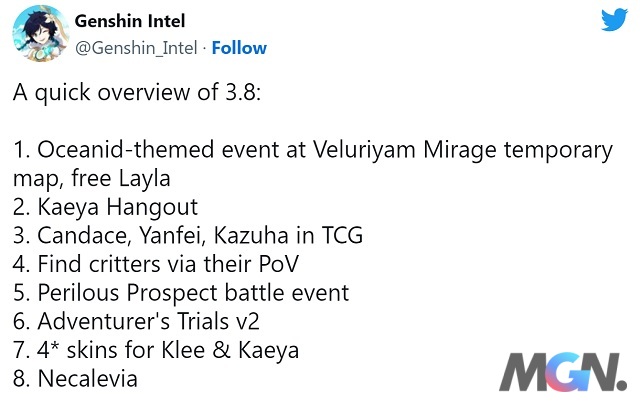 Don't forget to follow MGN.vn to update the latest news about Genshin Impact right now!