A recent Genshin Impact rumor has provided more details about a new female character slated to debut in patch 3.8.
A new Genshin Impact rumor has revealed more information about a new character that will appear in future updates. Developer HoYoverse has introduced a model that launches two playable characters with each new update. Version 3.5 is ongoing which launched Dehya in the first banner cycle and Mika recently appeared alongside Shenhe and Kamisato Ayaka.
It seems Genshin Impact has no plans to slow down when it comes to adding new characters as their official social media accounts have confirmed two new Grass-type characters, Kaveh and Baizhu, for the next update. According to the game's usual update schedule, players can expect version 3.6 to launch around mid-April.
A leaked information about Genshin Impact has revealed a new female character that may appear in update 3.8. The character will be related to Inazuma, which means the game's official storyline could go back to the Land of Lightning. When it comes to rarity, she's supposed to be a new four-star Genshin Impact character, and there's currently no word on whether the update will also feature a five-star character. She is expected to vision Lei. Some fans have said that while they are excited to embark on new adventures at Inazuma, they expect the official storyline to return more to Mondstadt or Liyue.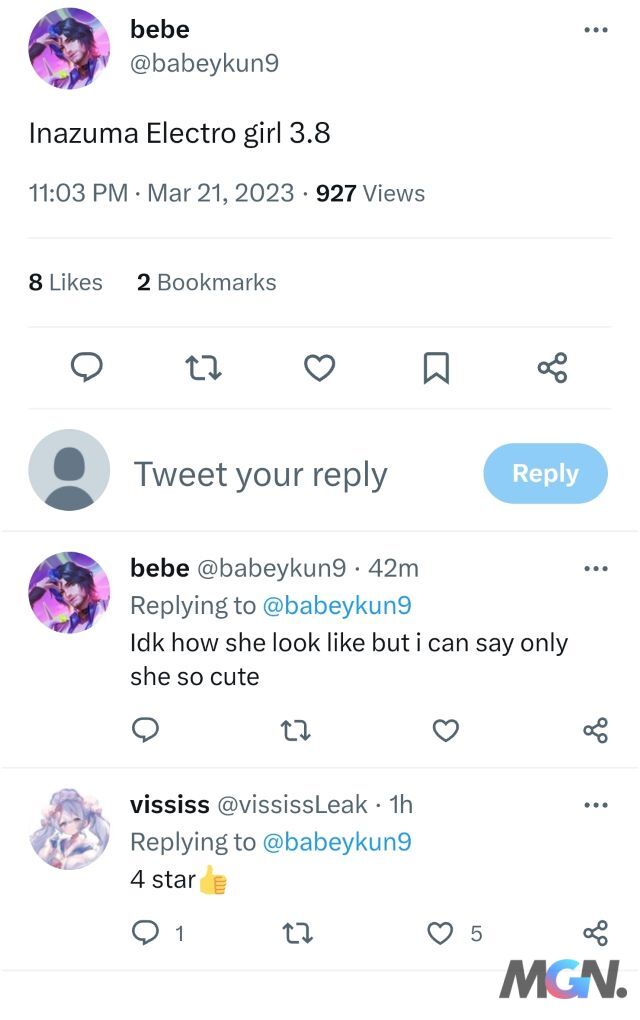 Currently there is not much more information about this character as well as the 3.8 update. Up until this point, all that players know about patch 3.8 is the arrival of a 4-star Lightning female character from Inazuma and the Eula banner that will likely rerun. In addition, there are also some rumors that version 3.8 may not bring the Golden Apple Islands back, but will instead be a completely new map, it is not clear whether it is an expansion map or just a new version. The event map is similar to the Golden Apple Islands.
>> MORE: Genshin Impact: Players will see Eula again at 3.8
Don't forget to follow MGN.vn to update the latest news about Genshin Impact right now!