Most of the lineups for Kirara in Genshin Impact will be the ones where she can act as a shielder that supports the draft and damage.
Kirara is the latest character to be released in the current version of Genshin Impact 3.7. Kirara's arrival is a new addition to the lineup of Grass-type characters in the game. Besides Baizhu, Kirara is currently the second character that has the ability to create a shield carrying the Thao element in the game. In addition, Kirara's skill set also supports her squad a significant amount of damage, along with the Thao press necessary for elemental reactions. So now in Genshin Impact, what kind of lineup options does Kirara have, let's find out with MGN in the following article.
5. Kirara – Alhaitham – Yae Miko – Kuki Shinobu
The main function of this squad is to utilize elemental seals and create reactions as efficiently as possible, consisting of two Grass-type characters and two Lightning-type characters with good elemental seal abilities. While Alhaitham will act as a DPS character, requiring him to be on the field for most of the match, characters like Yae Miko, Kuki Shinobu, and Kirara will have simple skills over time. out on the long field, allowing Alhaitham to focus on his damage without much interruption.
4. Kirara – Raiden Shogun – Nahida – Sangonomiya Kokomi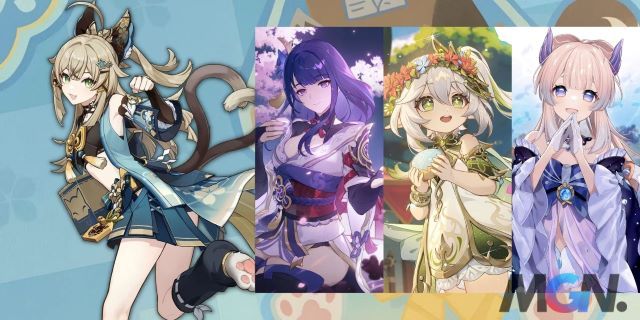 Players who are interested in a Blooming lineup and like to swap characters quickly without relying on a single DPS will likely enjoy this lineup. All the characters on this team can benefit relatively well from their on-field time without being interrupted when they're inactive. As a result, the player can continuously generate Grass Nucleus with the help of Kokomi, Nahida, and Kirara, and easily use the Raiden Shogun to trigger Bloom. In addition, Kirara can also partially support this squad's damage thanks to her skills, not simply depending on the damage from the Grass Cores.
3. Kirara – Nilou – Nahida – Xingqiu
As a Grass-type character, Kirara is a suitable companion for Nilou. Even without any Zodiacs, Kirara can still be useful in this team composition thanks to the ability to protect her teammates, thereby ensuring more survivability for the team when it is not overpowered. depends on the small amount of healing from Xingqiu too.
>> MORE: Genshin Impact: Turns out it wasn't just Eula who was 'forgotten' by HoYoverse
2. Kirara – Kaveh – Kazuha – Yelan
Players who don't own Nilou but instead want to use Kaveh to create a Summation reaction can still benefit from having Kirara on their team, along with other team members like Kaedehara Kazuha and Yelan. Unlike Nilou, Kaveh does not have a strict requirement for the element to go with the team, which allows gamers to have more flexibility in building the team composition.
Kirara is able to synergize well with Kaveh by providing additional Thao seals and protection, although Kaveh himself doesn't necessarily require this due to his already good self-healing abilities. Together with Yelan, they can easily create Grass Cores and further enhance the team's damage output. In addition, Kaedehara Kazuha's buffs to allies and debuffs to enemies can greatly assist Kaveh.
1. Kirara – Ayato – Xiangling – Kuki Shinobu
Gamers who primarily just want to use Kirara without a specific preference for elemental reactions and aim for an all-round composition involving the element Thao can try out this versatile lineup. This team combination combines many different elements, allowing characters to trigger a variety of elemental reactions such as Explosion, Bloom, Evaporation, and Overload.
This flexible squad is also a quick-swap team and players can completely replace team characters with equivalent options available, such as using Bennett instead of Xiangling or Raiden Shogun instead of Kuki Shinobu. With this approach, players can create a team that suits their playing style, featuring their favorite characters in a comprehensive layout that includes different roles on the team and matches with different challenges.
Don't forget to follow MGN.vn to update the latest news about Genshin Impact right now!