Right or wrong, Thao Than Nahida is definitely still one of the characters to invest in the most among all Genshin Impact versions in 2022.
Nahida is a Genshin Impact character that many players won't regret investing resources into. She's a really great character in the current meta and the evidence is very clear on how she has performed in the roster and her effectiveness and experience are all greatly appreciated. .
Naturally, there are a lot of reasons why players want to get her. Everyone will have a different motivation, and that's okay. Some players may even decide to ignore her, but they can at least consider some of the following reasons before rushing to do so.
5. Compatible with many lineups
Nahida is currently considered the best Grass-type character as judged by the Genshin Impact community. Her overall kit for field and off-court DPS, support and even exploration is all very impressive. It's no surprise to say that Nahida is versatile enough to make her a valuable part of many lineups. Examples include:
– Nilou Bloom (Nilou + Kokomi / Barbara + Yelan / Xingqiu)
– Nở Rộ (Yelan / Xingqiu + Kazuha / Sucrose / Venti + Raiden Shogun / Kuki Shinobu / Fischl)
– Catalyst -> Growth (Fischl + Yae Miko + Kazuha / Zhongli)
– Bung Tỏa (Yelan + Xingqiu + Bennett)
These are just a few examples. All in all, Nahida is an incredibly valuable character whose usefulness makes her a worthy investment in which you can safely spend your Gems.
4. Not many competitors
The current list of Thao-type characters in the game is extremely limited. We have a 4-star character Collei with the ability to quickly level Thao but the time is short, the animation is also quite cumbersome and has many inadequacies. Tighnari is inherently a major damage DPS, so his kit will be built around this style of play, if you want to support press level, Tighnari is not really an option to prioritize. Meanwhile, Thao Traveler is currently also an extremely popular character, but compared to the ability to create damage, seal level, buff Elemental Mastery, … all are impossible. comparable to Nahida.
>> MORE: Genshin Impact: Delighted with the combination of Nahida and Tartarglia C4
3. Elemental Skills are extremely handy
There is no need to say much about this talent anymore because it helps the player's exploration and farming of materials to save a lot of time. In addition, one can discover more about Sumeru by using Nahida's Elemental Skills to peer into NPCs in the Grassland.
2. Not picky about players, F2P can still play well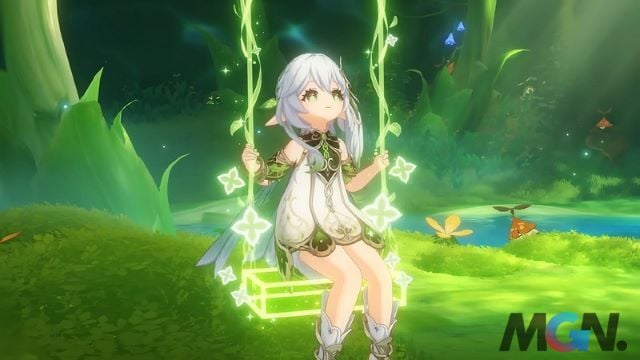 With a build that does not require many stats, players can completely focus on Elemental Mastery and also work well at Level 0 with 4-star F2P weapons such as Hai Do Van Quoc, Chuong Nhac Lang. Ladder, Magic Summary,… Nahida is really one of those F2P friendly characters.
1. Interesting and lovable character plot
Genshin Impact is a game that has some characters that fit the plot, as well as some minor characters that don't contribute much to the game's plot. Nahida is one of the best examples where many players inevitably compare her to other gods.
Nahida gives players a very engaging and interesting experience as she has been helping the Traveler since level 2 of the story in Sumeru and continues to help players until the completion of the story in this area. . She is even the first genie to give the player some useful information about their loved one. In addition, despite being treated badly by her people, Nahida has never hated them and has always silently protected them one by one, which is indeed a huge plus in the hearts of many players.
Don't forget to follow MGN.vn to update the latest news about Genshin Impact right now!