Many players thought that Genshin Impact had no changes to Baizhu's visuals, but in fact some improvements were added.
Baizhu is the newest 5-star character in Genshin Impact's list of playable characters. Baizhu is not a new character to the community because he appeared in the Magic God Quest in Liyue a long time ago. Many gamers were impressed with Baizhu's design because they thought his overall color tone didn't look really appealing and so they hoped that HoYoverse would change his design when it came out. eyes in the form of a playable character.
Hope so, but when it came out, many gamers were disappointed because… no change happened and it was still that unique purple pants on Baizhu's design. Many gamers think that it is not surprising because a character that appeared so early is inherently a model that has been shaped for a long time, so it is relatively difficult to change even though the Wanderer is already a smart figure. It is clear that the original model and the playable model are completely different.
However, just because the purple pants remain unchanged does not mean that Baizhu's current design is no different from the design two years ago when he first appeared. Reddit user u/Longwinter1641 recently shared an image comparing Baizhu before the 3.6 update and when he appeared in Genshin Impact at a time when he became a playable character.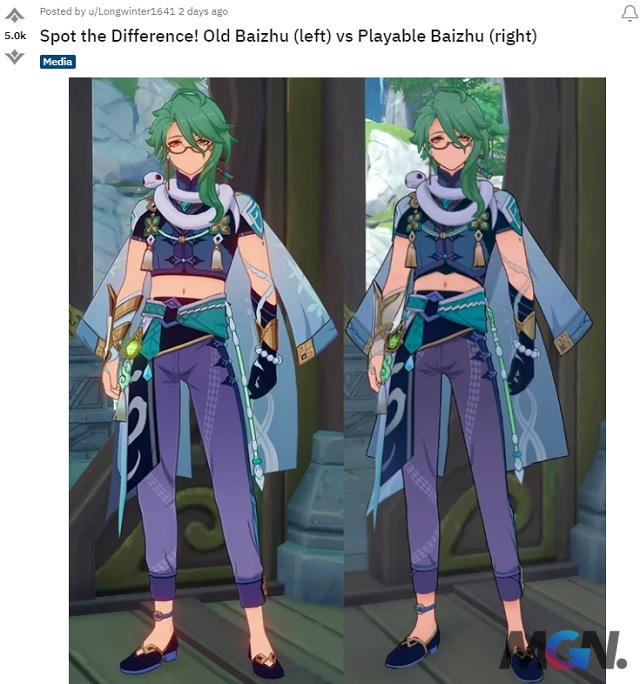 The difference between Baizhu's two almost identical appearances is in his size, with a slightly smaller all-around playable character rendering. This resizing doesn't just affect the character's frame in Genshin Impact, as his clothes and jewelry have been scaled to fully represent Baizhu just like before the 3.6 update. and the details are also significantly different when compared.
>> MORE: Genshin Impact: Animal Sanctification is a sign of a bad omen
In addition to the size difference between the playable Genshin Impact's Baizhu and his previous form, Baizhu comes in other shirts, gloves, and shoes, and is generally more muted in color. Although many Genshin Impact fans were excited about the changes to Baizhu, some lamented that they couldn't see him as the first version of the character.
Don't forget to follow MGN.vn to update the latest news about Genshin Impact right now!