Version 3.7 has not been released yet, but the Genshin Impact 4.0 banner has been revealed with the participation of the duo Lyney, Lynette, Childe and Yelan.
The first Genshin Impact release for the Fontaine chapter will continue the same cycle as the previous major releases with the constant introduction of new characters from the region. Although many new characters will be released, reruns of old characters will continue to be planned and maintained. Besides the banner with the appearance of both Lyney and Lynette, the Genshin Impact leaker named YC also revealed more about the return of Childe and Yelan in the upcoming 4.0 version.
Leaker YC is a new leaker that has emerged recently. This leaker's feat is recognized by the community in revealing the content and banner order of all three versions including Genshin Impact 3.5, 3.6 and 3.7 without any order. In addition, YC is also the first to reveal early that Yoimiya will be coming to Sumeru on a mission that will be her 2nd Legend Quest in the upcoming patch 3.7. Therefore, YC is currently being evaluated as one of the most reputable leakers because it has not leaked any information about future content.
Most recently, YC revealed information about banner 4.0 with a very simple Tweet with the number 4.0 and three icons including a Christmas tree, a duck and a scroll. The community quickly recognized that the duck was Childe, the bobbin was Yelan, and the Christmas tree was believed to be Lyney. The reason for this is because in Chinese, Lyney's name is pronounced almost like the forest, similar to Childe's case because his character's name is Tartaglia and the Chinese pronunciation of this name is similar. with duck.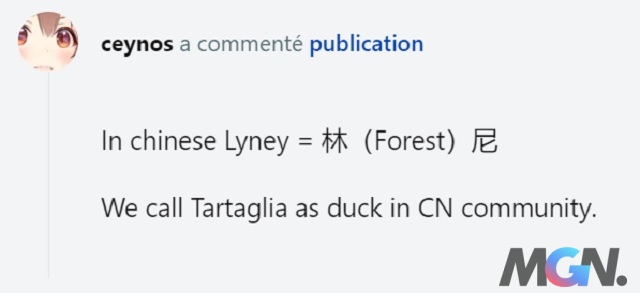 The information that YC provided once again stirred up the community because both Yelan and Childe are highly rated characters in the game up to now so their return will definitely make a difference. conditions for gamers who do not yet own the character or have not unlocked the necessary supply of opportunities to invest.
>> MORE: Genshin Impact: Not Mika, Charlotte is the first Ice-type magic weapon character
Don't forget to follow MGN.vn to update the latest news about Genshin Impact right now!