Recently, Genshin Impact announced the Raiden Shogun and Kamisato Ayato rerun banner along with the weapon banner that will open on December 27.
Version 3.3 Genshin Impact is already half way through. There are only 5 days left until the official end of the Wanderer and Arataki Itto rerun banner. On December 27, the banner Raiden Shogun and Kamisato Ayato and their weapon banner will officially start. Players who love the above two characters, please be a little more patient because the date of opening the banner is approaching.
The character banner this time will come with three four-star characters, Rosaria, Sayu and Kujou Sara. It is known that Kujou Sara has been around for a long time, specifically, nearly 10 banners have not appeared, so her comeback this time is one of the most anticipated comebacks.
Rosaria is a very stable support for Ice or Melt Backward squads. In addition to her good damage and Ice seal, Rosaria also has a breakthrough talent that helps her buff her teammates' attack rate based on her own attack rate. For the main DPS cores, the brute force is very important, so the ability to support the increase in the brute force also helps her get a certain position in some squads.
Sayu is a healer character in Genshin Impact. In addition, she can diffuse elements based on her Elemental Skills. In Sign 6, Sayu can convert Elemental Mastery into extra healing so if you can, you should try to get Sayu's Par 6.
Kujou Sara is famous as a character who always comes with the Raiden Shogun banner, similar to Gorou. Thus, it is not difficult to see that Kujou Sara is a character specially designed to support the Raiden Shogun in particular and the main Thunder-type DPS in general. Sara's Palace of Destiny 6 is the most valuable Bow of Life, so players should try their luck to unlock this Bow of Destiny if they want to make the most of Sara's value in the squad.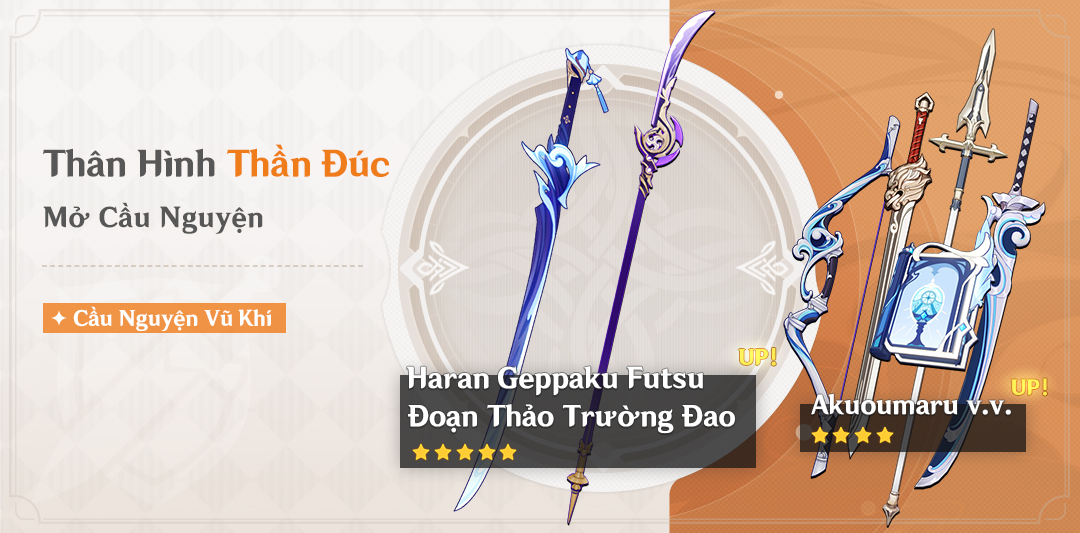 The weapon banner of the second half of the version is not really special except for two limited 5-star weapons. With two limited weapons, Moonlight Mouun and Akuoumaru of the Watatsumi armory. The effects of these two weapons are heavily dependent on the squad's total elemental energy cap. Besides, bow and heavy sword also don't really have many characters who can take advantage of the potential of these two weapons.
>> MORE: Genshin Impact: Super realistic game, Layla gets stuck because her bun is too big
Meanwhile, Dragon's Scream, Sacrificial Chapter Fragment and Xifeng Spear are weapons that are too familiar to players and are not limited weapons. Therefore, in general, the 4-star weapons of this banner are quite normal.
Don't forget to follow MGN.vn to update the latest news about Genshin Impact right now!