Recently, a leaker revealed that version 3.7 will feature a character from Fontaine and this character is one of 10 previously revealed characters.
Previously, leakers released an image that revealed a series of characters believed to be from Fontaine in Genshin Impact. In that image, there is the appearance of what is said to be Fontaine's Water God. However, many sources say that as is customary, HoYoverse will not release god before the major update is released so we will probably have to wait until Fontaine officially launches to confirm this. However, besides the Water God, there are also other characters that attract the attention of players. And among them, there is a character that has been revealed by leakers that she is from Fontaine and will make her debut in the upcoming patch 3.7.
A new post on the Genshin Impact Leaks Reddit sub has revealed more details about a possible new character in quest line 3.7. According to the post, the character's name is Charlotte and she will play an important role in the upcoming updates. She was one of 10 Genshin Impact characters that were leaked by leakers a few months ago leading many players to believe that Charlotte could be the first playable character from Fontaine. The name Charlotte may just be a placeholder and her real name will be revealed when update 3.7 is coming.
Interestingly, the revealed image of Charlotte in the character lineup from Fontaine has been compared by many players with the Stigma named Charlotte in the game with the same producer, Honkai Impact 3. From what can be seen Currently, they noticed a lot of similarities between the two characters and found that Charlotte Genshin Impact from Honkai Impact 3 is holding a bow so many gamers have boldly predicted the very high possibility that Charlotte Genshin Impact will also be the one. a character who uses a bow as a weapon.
Players seem to be excited to meet a new character from Fontaine, especially since the game has confirmed that the only new character added in Genshin Impact 3.7 will be Kirara. Some comments indicate that it is unlikely that the two characters will interact in the main storyline since Kirara belongs to the Inazuma region. However, the fact that she works for a famous delivery service in the Land of Thunder may mean that she is perfectly capable of traveling the world of Teyvat.
>> MORE: Genshin Impact: Gamers use AI ChatGPT to solve puzzles in Inazuma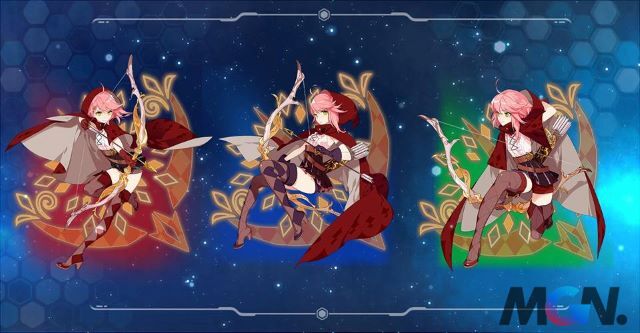 Some fans think that the two upcoming updates will likely include plenty of additional content as HoYoverse prepares for 4.0, the big version that will introduce the long-awaited Fontaine. Trusted leakers have revealed that it will be located north of the two recently added Sumeru expansions and west of Liyue.
Don't forget to follow MGN.vn to update the latest news about Genshin Impact right now!