If you are planning to experience Kirara as soon as you get her, here is a list of ingredients that you can prepare for her in advance.
Kirara is the only new character introduced in Genshin Impact 3.7. Kirara is a character who possesses a skill set that favors supporting his teammates in combat. And if you are looking to experience this super cute cat shipper right away, MGN will send you a list of ingredients so you can prepare in advance to get ready for Kirara.
Kirara's role in the squad is expected to be a character capable of buffing shields and healing allies. In addition, Kirara is expected to have a good ability to level Thao on nearby enemies so she will also be potential in squads that need a character that can grant Thao, shield and heal. In addition, Kirara's gameplay in Genshin Impact also has its own unique point when she can facilitate players to climb walls faster.
Breakthrough Materials for Kirara
Kaveh will need all of the following ingredients to break through to the maximum level in Genshin Impact:
– 1x Shredded Gem of Birth
– 9x Growth Jade Shards
– 9x Growth Jade Pieces
– 6x Birthplace Jade
– 168x Amakumo Fruit
– 46x Dark U Circle
– 18x Devil Mushroom Spores
– 30x Fluorescent Powder
– 36x Crystal Dust
– 420,000 Mora
Besides Raiden Shogun, Kirara is the second Inazuma character to use the Amakumo Fruit as a breakthrough ingredient. Amakumo Fruit is an ingredient that can only be found on Seirai Island in Inazuma. In just one walk around Seirai Island, you can completely gather enough materials for Kirara.
And if you need a complete Amakumo Fruit farm, the following article can suggest you the fastest and most complete route.
Devil Mushroom Powder can be dropped from Devil Mushroom monsters and players can spend time farming or redeeming in Paimon shop for a limited amount.
>> MORE: Genshin Impact: Pocket these 10 tips that will help you gacha success
Gifted upgrade materials for Kirara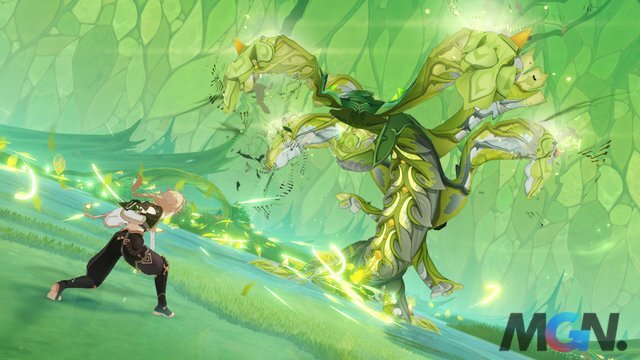 The Traveler will need to gather the following resources to max out all three of Kaveh's talents in Genshin Impact:
– 9x Lectures of "Phuong Thi"
– 63x Tutorials of "The World"
– 114x Philosopher of "The World"
– 18x Devil Mushroom Spores
– 66x Fluorescent Powder
– 93x Crystal Dust
– 18x Eternal Amber
– 3x Crown of Wisdom
– 4,957,500 Mora
All three "Exquisite" books are farmable from the Purple Garden scene every Monday, Thursday, and Sunday. The Eternal Amber weekly boss material can be obtained weekly by defeating Apep. Meanwhile, the current Crown of Knowledge can only be obtained through events.
Don't forget to follow MGN.vn to update the latest news about Genshin Impact right now!