The new boss of the week Apep in version 3.6 is not a very dangerous boss, but there will be new mechanics for players to keep in mind.
The Apep week boss in Genshin Impact 3.6 is the latest weekly boss to be released. To unlock this week's boss, players need to complete Nahida's Level 2 Legendary Quest to unlock the mystery of the Primordial Origins and be able to challenge the Guardians of the Apep Oasis.
Defeating the boss of the week Apep will drop players a variety of valuable materials in addition to special gifted upgrade materials such as Earth Fern, Primordial Fresh Flowers and Eternal Amber. Similar to other weekly bosses, players can only receive rewards for defeating this week's boss once per week. Each week boss in the game will have its own special mechanism or transformation ability. For Apep, we will have three waves to defeat this boss and each wave will have its own mechanics and notes when fighting.
Apep will be quite different from Shouki no Kami, it does not have a paralysis mechanism that helps players increase damage. Moreover, its attacks can be enough to shock your character to death so gamers should try to be able to avoid its attacks or you should have a shield character on your team to avoid taking damage.
Phase 1: Guardians of the Last Oasis
The match will begin with the first stage as Guardians of the Last Oasis in Genshin Impact. This is the Guardian of the Apep Oasis in a weakened state, and the player can tell from how weak the boss's attacks are and how much damage it takes.
However, there are two attacks that players should be aware of in the first phase. First, when Apep starts slamming the ground and summoning countless spinning orbs, the player should either avoid them or have a shield to take the damage. This is because the player will be stunned for a while if they are hit by a series of these orbs.
Another attack to watch out for is when Apep's hands start to glow as it throws them to the ground. Soon, a few giant hands will begin to appear to attack the character. This attack is very easy to avoid, or you can use a shield if you… dodge a bit bad.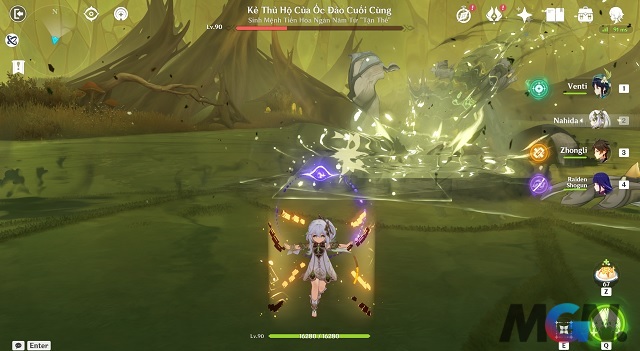 Phase 2: "The Heart of the Oasis"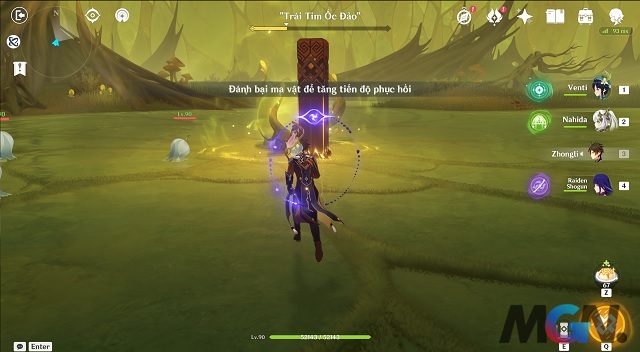 After defeating phase 1, the Oasis Heart will collapse and monsters will begin to gather around it. Enemies will prioritize attacking Oasis Heart and try to deplete its HP bar. Players can protect the Oasis Heart and help it recover by quickly defeating attacking monsters. They can also subdue enemies with Wind-type skills or trigger elemental reactions such as Freeze or Overload.
Some monsters have very unique moves and attacks. For example, some will turn towards the Oasis Heart and cannot be stopped by Diffusion or elemental reactions.
One particular monster is more dangerous than the rest. It appears as a small creature resembling a scallop and moves towards other monsters to eat them. Once it eats another monster, it grows larger and becomes immune to crowd control effects. It will then become aggressive moving towards the character and draining their HP quickly.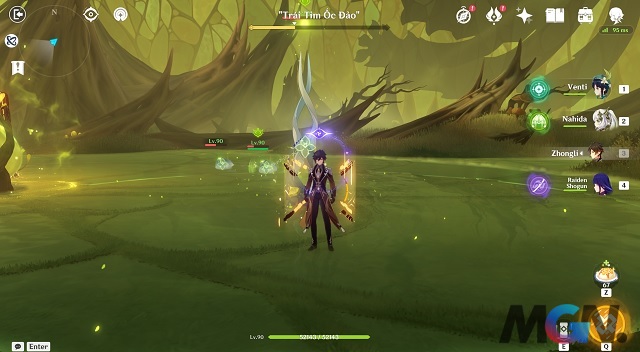 Some monsters will gain a Thao element shield, which protects them from damage and crowd control effects. To remove their shield, target the original monsters that created the shield. Aside from these monsters, all others are relatively weak and can be easily defeated during the "Guardian Heart" phase of Genshin Impact.
Phase 3: Guardians of the Oasis of Origin
The third and final stage of Genshin Impact's match against Guardians of the Oasis Apep, is the hardest stage in this week's boss fight. According to the boss's name, this is the Guardian of the Oasis in its original form, so players should be prepared for the toughest attacks. Although it has a few different moves, Apep basically works almost the same as its first phase and launches very similar attacks.
One of its new attacks is when Apep prepares a bunch of Thao elemental entities around it, then shoots them all to hit the character on the field. The player can easily avoid it by gliding through or using a shield, like Zhongli's or Layla's.
>> MORE: Genshin Impact: Instructions to open Rare Chests at Vourukasha Oasis
Apep's deadliest attack in the final phase is when the boss attacks in a frenzy, with Resurrection Shields spawning around the battlefield. This is the stage where Apep will launch a series of very powerful attacks that even Zhongli's thick shield can hardly withstand and your character can fall so be careful to avoid them. by entering the Resurrection Shields.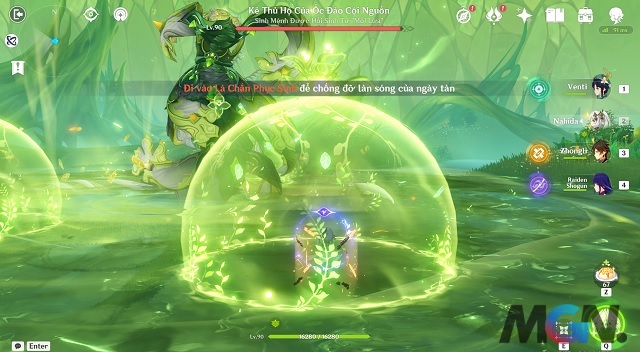 Overall, the Guardian of the Apep Oasis in Genshin Impact is not a difficult boss to defeat and the player can avoid all of its attacks by simply carrying a shield while other DPS units can take down Apep easily.
Don't forget to follow MGN.vn to update the latest news about Genshin Impact right now!