After researching, a Genshin Impact player discovered that Alhaitham's ear ornament had a surprising use.
Alhaitham in Genshin Impact plays a very important role in the storyline in Sumeru. He is the Clerk of the Sumeru Institute, a man of great reason and a bit of contempt for others. Alhaitham is quite a pragmatic character, he will consider all things and things according to their merits, calculate it according to the kinds of reasoning he knows and then make judgments. whether these things have value or not, make any sense or not. He is considered by Thao Shen Nahida to be an extremely talented person, somewhat more outstanding than others, but whether he always acts alone, and looks down on the crowd is not a good thing or not.
Alhaitham also has a roommate, Kaveh, who has a personality opposite of him and often gets into arguments with Alhaitham. Despite this, the Alhaitham always let Kaveh live in their home and paid for all of Kaveh's money without asking him to pay it back. The relationship between these two characters is extremely interesting when they are opposite from each other in terms of personality to the opposite of each other but still live together.
Alhaitham's ear ornament is also one of the notable details in his design. Many players have long wondered about this ornament, and recently a Reddit user named u/Frozen_fire101 shared his discovery of Alhaitham's ornament. Accordingly, this user said that this object is not something sublime but is actually just a headset. Alhaitham is not wearing it for the purpose of listening to anything, but simply using its noise-cancelling design so as not to have to listen to anyone else.
In the comments section, some users humorously commented that maybe this is true in case he doesn't want to hear anyone's real talk, or actually he just doesn't want to hear Kaveh's bullshit. never mind.
Another user shared more about this habit of wearing noise-cancelling headphones from the perspective of someone who has a relative who is autistic so that everyone can have a different view of this habit.
>> MORE: Genshin Impact: Interesting details about Kaveh revealed in the game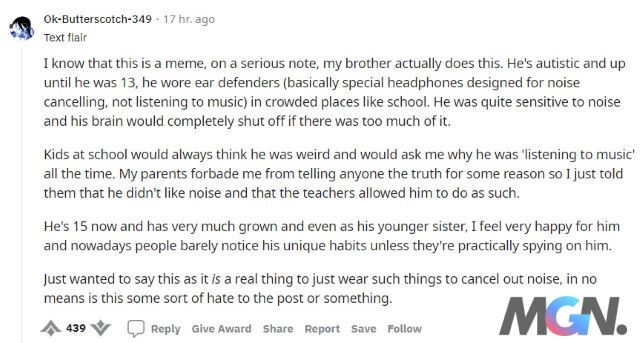 I know this is just a meme, but seriously, my brother actually did the same. He has autism and until he was 13 years old, he always wore ear protectors (usually special noise-canceling headphones, not for listening to music) at home. crowded places like schools. He is quite sensitive to noise and his brain can stop working if there is too much noise in the place.
The kids at school would often think he's weird and ask me why he "always listens to music." My parents forbade me from telling anyone the truth for some reason. reason so I just told him he didn't like the noise and the teacher allowed him to do so.
He is now 15 years old and much more mature and I am a little sister myself, I feel happy for him and now people hardly notice this particular habit of his except when they followed him.
Just wanted to let everyone know that this is a real thing, that wearing noise-cancelling headphones, not that I hate this post or anything.
Don't forget to follow MGN.vn to update the latest news about Genshin Impact right now!