It's not the first time it's been questioned about using AI. Genshin Impact recently continued to get into trouble when it was suspected of using AI in its latest web event.
AI, also known as Artificial Intelligence, is probably no longer strange to us today. Recently, game publishers have also started using AI and have created waves of backlash from players. No exception, Genshin Impact or even the publisher HoYoverse have sometimes been questioned about using AI in their own games.
At Genshin Impact's most recent web event, Sounds From a Far Away, many players were keen to notice some unusual points coming from the character animations and they asked themselves whether the publisher had used Using AI in this anniversary event.
Questions about the use of AI in Genshin Impact's latest web event
A few days ago, a user named u/barnalorca posted on the social network Reddit with the caption "Has anyone noticed that the character's expressions in the new web event move very strangely? They used AI for this event?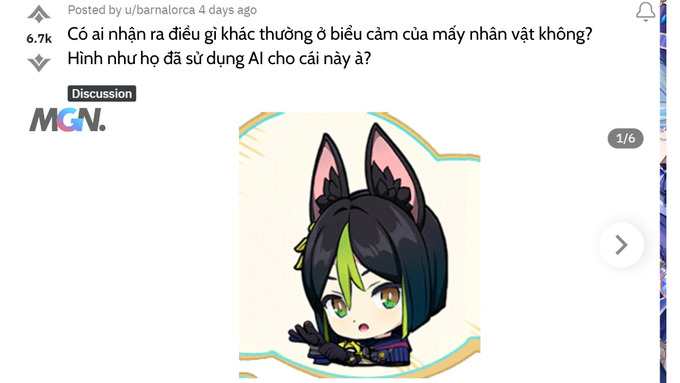 Immediately this user received many sympathetic comments from other players. They even pointed out unusual things like Diona's hair moving up and down strangely or Tighnari's fingers.
There were some other players who even said bluntly, "I didn't realize it during the event but it really looks like AI. It's not an animation that a human would make."
The use of AI in innovative technologies is certainly not too strange and not at all bad. However, currently it seems that the publisher's AI technology is not yet complete enough to bring the most natural effects. Perhaps Genshin Impact needs to consider using AI when it is not of good enough quality and can bring a bad experience to gamers.
The use of AI in video games like this always receives many mixed opinions. But for a large company like miHoYo and an anniversary event, such a mistake is very difficult to accept.
Although the publisher has not yet commented or taken any action regarding the above incident, perhaps we should not expect much because this is not the first time this company has been involved in scandals related to the above incident. related to AI.
>>SEE MORE: Genshin Impact: Is Wriothesley required to have Destiny 1?
How do you feel about applying AI to small events like this in Genshin Impact? And don't forget to follow MGN.vn to receive the latest information about Genshin Impact!