A Genshin Impact player noticed an interesting little detail about Kokomi's Elemental Skills that many players may have missed.
A Genshin Impact player noticed an interesting detail about Sangonomiya Kokomi's Elemental Skill icon. This is one of the first Inazuma characters to debut in update 2.1 along with the Thunder God Raiden Shogun.
Sangonomiya Kokomi was known as the Sorcerer Saint of Watatsumi Island, who handled the affairs of the area, similar to that of Jean in Mondstadt. This five-star Genshin Impact is also an accomplished military strategist who appeared to relieve the Watatsumi Army during their confrontation with the Shogunate at Yashiori Island.
A new post by Reddit user u/Elecwizer has revealed an interesting detail about Kokomi's Rage Skill. The symbol for this skill is very similar to the symbol for omega, the last letter of the Greek alphabet. This letter is used as the symbol for ohm, which is the unit of measurement of resistance in the international system of units.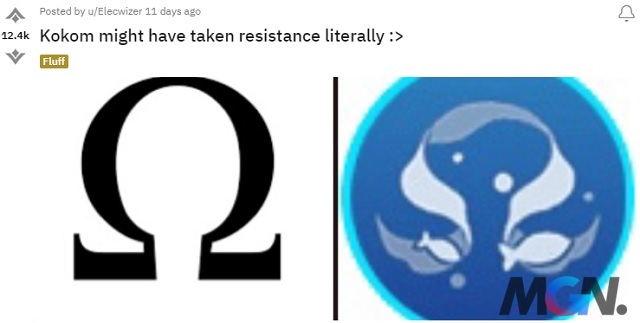 The icon design of the Rage Skill is highly iconic for the character as the effect provided by Kokomi's Rage Skill increases her interrupt resistance. This effect also increases the damage of her basic attacks, and can also heal members of Kokomi's team. Fans seem to love this detailed approach to character design as the post racked up more than 12,000 hits on Genshin Impact's official Reddit sub.
Although she was one of the first five-star characters in Inazuma, many players ignored Kokomi's release banner. The main reason is probably that she is placed on the same banner as Raiden Shogun, who appeared in the first half of the update. At the time of its release, Kokomi was considered by many to be a slightly stronger five-star version of Barbara. However, the recent introduction of the new Thao element has made Sangonomiya Kokomi a worthwhile pick in the current meta.
>> MORE: Quick summary of the entire content of Genshin Impact version 3.6
Don't forget to follow MGN.vn to update the latest news about Genshin Impact right now!