This year, Genshin Impact continues to cooperate with Pizza Hut. The two representative characters this time are Ningguang and Yelan with gorgeous shapes that make fans fall in love.
After announcing a partnership with Pizza Hut earlier this year, special products under the Genshin Impact brand have begun to appear for consumers to order. First launched in 2020, Genshin Impact has brought great success to the HoYoverse developer. Taking place in a fantasy open world called Teyvat, players can unleash adventure and explore the world in the game with a system of characters and weapons that can be obtained through the gacha feature updated about 6 once a week.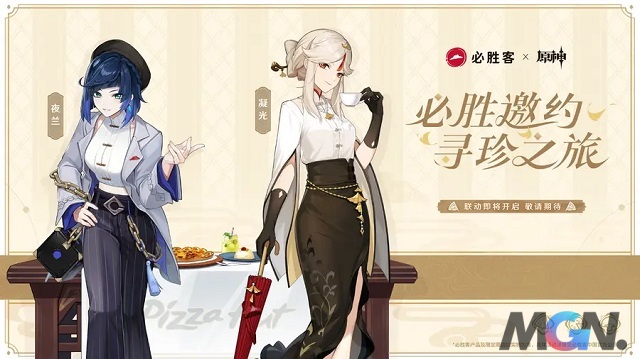 Similar to other direct service games like Destiny 2 and Call of Duty: Warzone, Genshin Impact is currently continuing to expand its world with new areas to explore, quests, and talking characters. on to attract players to come back. With an already extensive roster of characters, each with their own unique skills and ability to control an element.
Among all the characters currently in the game, there are many of them that are especially loved by gamers. And the fact that they can appear on collaborative publications between brands will be able to inspire gamers more in supporting brands as well as publishers.
Previously, Genshin Impact has collaborated with Pizza Hut twice with the first being Noelle and Diluc while the second time was Eula and Amber. The third collaboration between Genshin Impact and Pizza Hut will be two very popular characters in the community, Yelan and Ningguang.
While the pre-sale of collab items started at the end of February, the official launch started in China from April 3. The two Liyue characters will be dressed in modern outfits with stylish looks and appear on various items such as pizza boxes, banners, and drinking glasses. This partnership also brings limited-time products like metal bookmarks, themed notebooks, etc.
>> MORE: Genshin Impact: Kamisato Ayaka and Shenhe pull in better-than-expected numbers
Since this partnership is exclusive to China, people who live there are already starting to see Pizza Hut merchandise start to appear. A Genshin Impact Reddit user by the name of inaem even posted a photo of the exclusive box with a striking modern-looking Yelan on the cover as well as her signature.
Naturally, all the comments seem to agree that HoYoverse should release costumes for both of these characters in the game because of the elegance and uncanny fit for the two characters. Many gamers think that they will be willing to spend money to buy these two skins if HoYoverse decides to release it, but perhaps that prospect will be far away.
Don't forget to follow MGN.vn to update the latest news about Genshin Impact right now!