On the occasion of the launch of Fontaine, a Genshin Impact gamer used Kamisato Ayaka to run from Inazuma to the Water Country to buy skins.
Taking on hiking challenges from location to location in Genshin Impact is not uncommon. In fact, this challenge has been conquered by many gamers with different purposes.
When Fontaine was released, many players immediately started doing this challenge. One of those players posted a video of their journey on Youtube as they used Kamisato Ayaka to walk from Inazuma to Fontaine.
In the video, the player uses Kamisato Ayaka in her default outfit and departs from Kamisato Territory towards Ritou Island. This gamer did not take the challenge with a high level of hard-core as they still decided to let Ayaka run instead of walking like some players.
When traveling from Inazuma to Liyue, this player chose to take a wind boat instead of choosing to use Ayaka's famous water surfing trick, which he said was to save more time.
The following road, gamers moved from Liyue Port towards Tuan Ngoc Lang then crossed Thai Tieu Coc to follow it to Sumeru through the route leading to Mawtiyima Forest in Genshin Impact.
Next, the player goes around Sumeru Castle, uses some Four-Leaf Seals to move faster, and crosses the Traveler's Station to reach the desert area. This gamer headed towards the edge of the Sumeru desert to follow it across the Hadramaveth Desert in the most gentle way and into the Farakhkert Garden area.
This player even saves travel time by climbing a high mountain segment to get to Barsom Peak faster to reach the Teleport Point at the edge of this desert area, which is also adjacent to Fontaine.
When they arrived at Fontaine, they used the Loop Train to go to Fontaine Great Hall and this gamer's destination was a clothing store not far from the Adventurer's Association in Fontaine.
The video ends with Kamisato Ayaka taking off her default outfit and donning the Spring Blossom Letter skin, an outfit with a story inspired by Fontaine's signature outfit.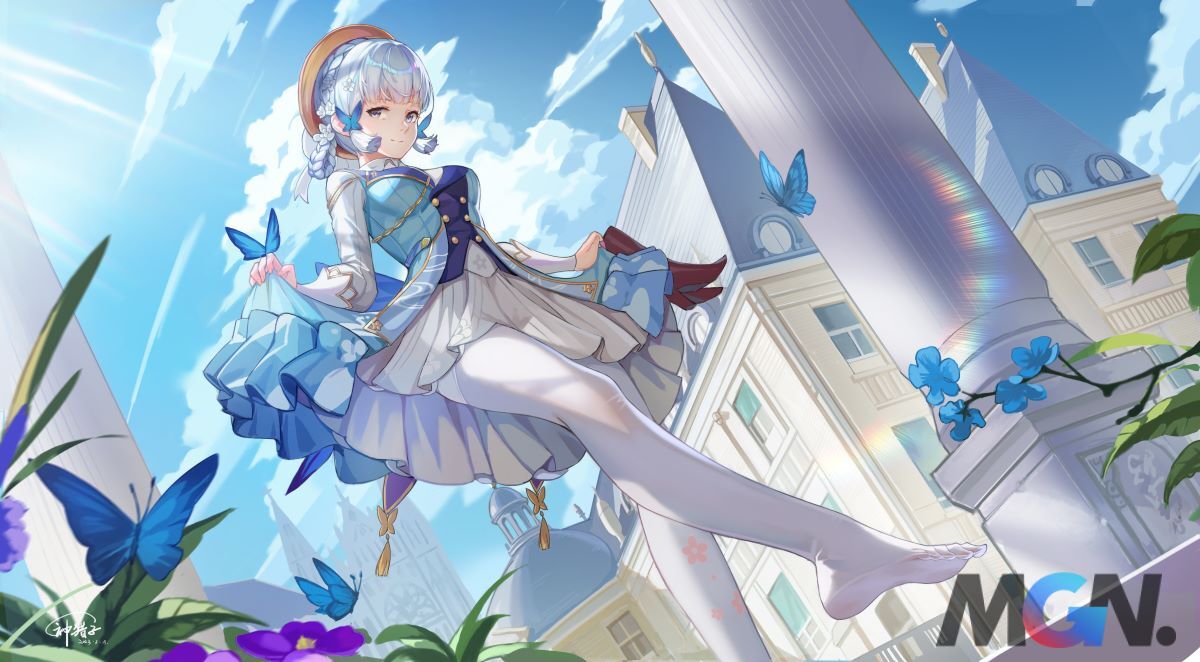 It can be seen that this gamer's intention was to both take on the challenge of walking from Inazuma to Fontaine and also to go to Fontaine to buy a new outfit for Ayaka. The 7-minute video was fast-forwarded, so it is difficult to estimate the exact amount of time this gamer spent performing the above challenge.
Many gamers think that what is really admirable here is that this Genshin Impact player used his phone as a device to perform this challenge. During Ayaka's trip, we did not see any technical problems such as the phone running out of battery or lagging, so this player's phone must be very good. Strong.
>> MORE: Genshin Impact: A 'strange' detail about the Water God Furina was pointed out by gamers
Some other humorous comments said that this gamer should do this challenge again but this time not using a wind boat but using Ayaka's unique surfing ability. It can be seen that it is this unique skill of Ayaka that has helped her become one of the most "reputable" faces in the "road and bridge building" village in Genshin Impact every time gamers want to make a move. some long distance challenge.
Please leave your thoughts for everyone to know in the comments section and don't forget to follow MGN.vn to update the latest news about Genshin Impact right away!