Recently, some changes have taken place in the beta test server version 3.4 and the main highlight is the reduction of Alhaitham's power a lot.
The latest Genshin Impact leaks have revealed that the 3.4 beta test is making some changes to Alhaitham's kit. Reliable sources have confirmed that these leaks are indeed major nerfs to Alhaitham's gameplay. MGN would like a quick recap of all these changes as follows:
– Nerf hit damage at level 10
– Nerf raid damage at level 10
– Nerf damage per hit of Rage Skill at level 10
– Nerf's genius for breakthrough
Alhaitham is an upcoming 5-star Thao character and has officially been confirmed to debut on the banners of version 3.4. He is a single sword wielder and can use the ability to quickly teleport to nearby locations and attach the Thao element to his normal attacks.
Trusted leakers have revealed new changes made to Alhaitham's damage multiplier and breakout genius in the Genshin Impact 3.4 beta test. Based on leaks from the beta server, it looks like Alhaitham has been nerfed a lot across his entire kit. This is a shock to all the fans who are saving up the Primal Stones to summon him.
After the recent changes, the majority of the community felt that this would greatly affect Alhaitham's banner revenue, with some even speculating that HoYoverse doesn't seem to like the male mainline DPS so just treat them like that. They think that Alhaitham's gameplay is already nothing new when compared to Keqing, now the damage multiplier is still heavily nerfed, so he can face the risk of a drop in sales and users. will turn against him to choose Hu Tao or Yelan in the second half of patch 3.4.
Specifically, Alhaitham's damage multiplier has changed as follows: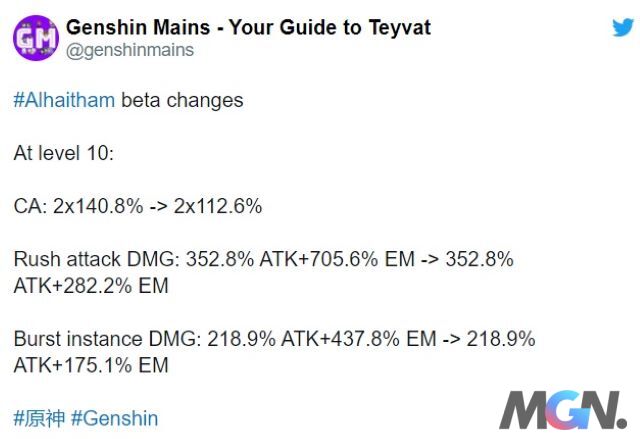 Normal Attack – Retrospective Reasoning
– Strike damage multiplier at level 10: Reduced from 2 x 140.8% to 2 x 112.6%
Elemental Skills: Universal – Model Drafting
– Raid damage multiplier at level 10: Reduced from 352.8% Attack + 705.6% Elemental Mastery to 352.8% Attack + 282.2% Elemental Mastery
Wrath Skill: Area – Spectacular Chains
– Damage multiplier at level 10: Reduced from 218.9% Attack + 437.8% Elemental Mastery to 218.9% Attack + 175.1% Elemental Mastery
>> MORE: Genshin Impact: You can encounter bots when entering PvP mode in TCG
In addition, Alhaitham's breakthrough talent was not spared from fate when he was also in this extremely powerful nerf. Specifically, the content changes as follows: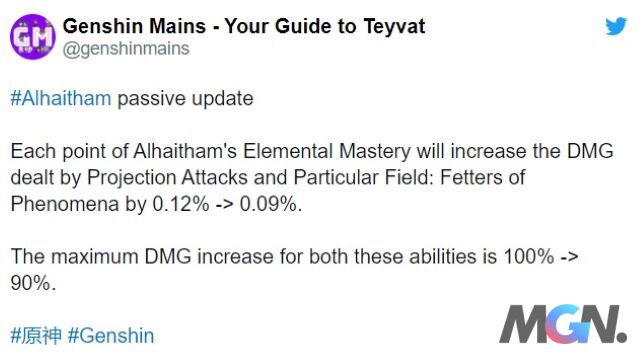 Breakthrough genius: Uncovering the Secret
– Elemental Mastery and Elemental Mastery's Elemental Skill and Rage skill increase damage multiplier reduced from 0.12% to 0.09%
– Damage increase limit reduced from 100% to 90%
As can be seen, this is definitely a huge nerf for Alhaitham. It's likely because the scaling is so great right now that Alhaitham himself is a Grass-type, reactive elemental whose damage multiplier increases with Elemental Mastery a lot, so the This change has so much impact. However, these are only changes in the beta test server anyway, so Alhaitham fans still have hope for a brighter tomorrow.
Don't forget to follow MGN.vn to update the latest news about Genshin Impact right now!