From the latest information, the Wanderer is likely to appear in Fontaine in the upcoming Genshin Impact versions.
Recently, a rumor has surfaced that the Wanderer might appear at Fontaine in Genshin Impact. Prior to his debut in patch 3.3, the Wanderer was one of the game's most anticipated characters, first introduced not long after the game's release in 1.1. The character previously played a key role in the storyline in Sumeru and has now become one of the popular DPS picks for many players who specialize in wind damage-dealing teams. Although there is an entire story chapter explaining the origin and transformation of the Wanderer, it seems that his journey is not over yet.
The plot at Fontaine is currently being revealed gradually. Fontaine is known for being one of Teyvat's most technologically advanced areas and is heavily themed around "Justice", first introduced in the game's "Teyvat Chapter" trailer that was released. immediately after its release. The area is also rumored to have fast-flowing rivers and large bodies of water, due to its location as a protectorate of the Water God. And recently, a leaked source has revealed that the Wanderer is currently making his way to the Water Kingdom.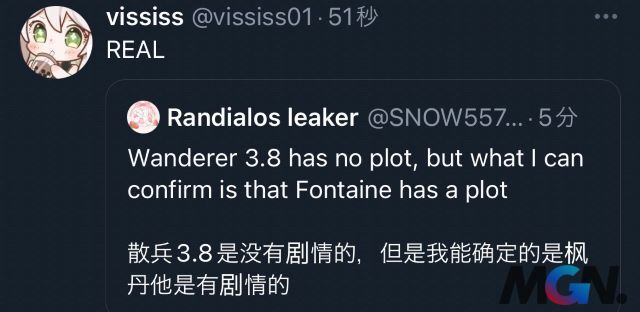 A post shared by popular Genshin Impact leaker Vississ has revealed the Tramp's involvement in the game's upcoming storyline. The information provided by this leaker confirms that the Wanderer will not be participating in the plot of Genshin Impact 3.8, quelling rumors that he appeared due to receiving banner reruns in this version. However, the Wanderer is supposed to play some part in the plot at Fontaine, it's possible he'll be there from Sumeru. The appearance of the Wanderer in Fontaine will be the third major area where the character participates in the storyline, including his former identity as Scaramouche.
The role of the Wanderer in Fontaine's storyline is expected to be rather lackluster as the only Executor Fatui will appear in this area along with many others rumored to be playing the main roles. Previous rumors have suggested Genshin Impact will welcome a third playable Fatui member to appear in Fontaine, highly suggested as one of the female members like Sandrone or Arlecchino. Other Fatui Executives such as Dottore, who was a villain at Sumeru, are also expected to appear in the storyline at Fontaine. Currently, it is expected that Genshin Impact 4.0 version will be released around September this year.
>> MORE: Genshin Impact: Appears a strange rage spam game, have you tried it yet?
Don't forget to follow MGN.vn to update the latest news about Genshin Impact right now!