The new La Hoan season makes you 'depressed'? Then let's take a look at the top 5 squads that are storming in this Genshin Impact to overcome this 'damage' soon!
This latest Genshin Impact season of version 3.7 has to be said to be one of the most controversial La Hoan seasons in the game because of its difficulty. If on floors 12 – 1, gamers have to struggle with 3 Abyssal Apostles, on floors 12 – 3, they will have to face one of the most annoying enemies in the game, Sanctifying Beasts, not just 1. or 2 with up to 4 animals divided into 2 batches. On the 12th – 2nd floors, it is not difficult to see this season of La Hoan intentionally arranged to counter many strong lineups in the current Genshin Impact such as Raiden National, Raiden Hypercarry, Nilou Sum Suê, …
So, have you completed this La Hoan Ky challenge? Do you have full stars? And if you still haven't passed or have finished but haven't got full stars and want to try again, MGN will suggest you 5 very popular lineups in this La Hoan 3.7 period!
5. NaXingKu and Bennett
– Number of picks: 163
– Rate of choosing the upper floor: 0%
– Rate of choosing the lower floor: 100%
NaXingKu is one of the combinations that has created the brand for Nahida, and brought Kuki Shinobu out of the cave since the introduction of the Thao element. The lineup of only 3 required characters, Nahida, Xingqiu and Kuki Shinobu can easily trigger the Blooming reaction with just a few simple combos and can completely destroy Luo Hoan Island gently and quickly. The remaining slot of this lineup will usually be a flexible slot, so in the La Hoan period, if there are 3 Abyssal Apostles with 2 Ice and 1 Water like this, a Fire element slot is a must-have option. Then the most suitable factor here is none other than Bennett.
Bennett in addition to the ability to give good Fire makes it easy to break the Ice shield, because this squad also activates the Explosion reaction, Bennett's healing ability will help the team avoid shock damage more. Also, since all 3 Apostles of the Abyss will simultaneously trigger a Freeze reaction on you, and even a debuff that reduces health regeneration and increases cooldown, Bennett's Rage Skill helps to remove these debuffs as well. is a very good choice.
4. Childe Intermational
– Number of picks: 232
– Rate of choosing the upper floor: 48%
– Rate of choosing the lower floor: 52%
Childe International is one of the squads that have been so famous in the game with an extremely high pick rate for many consecutive seasons of La Hoan since it was known to the present time. The squad with the amount of damage divided equally between Childe and Xiangling, along with the ability to continuously issue elemental seals to react and the combo is not difficult to use, has helped this squad quickly gain popularity with the gaming community. Favorite Genshin Impact player.
>> MORE: Genshin Impact: Discover exciting abilities only Kirara has in the game
This Ky La Hoan 3.7, with the selection ratio on both floors are approximately the same, but the slightly better part belongs to the lower half due to Kazuha's powerful seal diffusion ability, along with the continuous Fire seal that will facilitate gamers easily pass the 12th floor – 1 lower half.
3. Hu Tao, Zhongli, Yelan, Nahida
– Number of picks: 319
– Rate of choosing the upper floor: 0%
– Rate of choosing the lower floor: 100%
Hu Tao is already a strong character in Genshin Impact. Although in recent versions, she is somewhat less chosen, but that does not mean that Hu Tao's power is no longer favored in the current game meta. The Hu Tao, Zhongli and Yelan lineup is a famous lineup for Hu Tao carry with the remaining element being Xingqiu. However, with the current La Hoan season, having a Thao character will make it easier for the squad to complete challenging content like La Hoan.
2. Kamisato Ayaka Freeze
– Number of picks: 383
– Rate of choosing the upper floor: 100%
– Rate of choosing the lower floor: 0%
Although not available to the lower tier, the powerful burst of damage combined with hard control and the Freeze reaction have helped this extremely popular lineup of Kamisato Ayaka stay healthy through many seasons of Rooster. With this strong control ability, having 2 or 4 Divine Beasts can't make this girl difficult.
1. Nahida National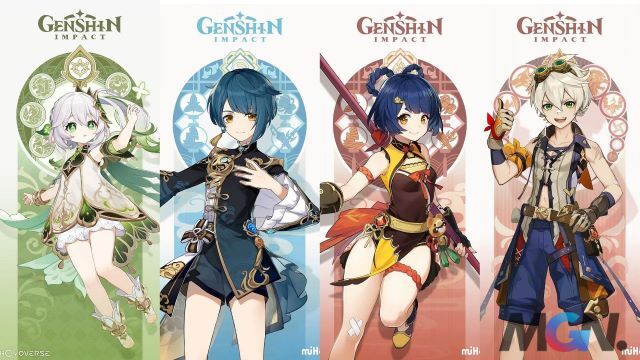 – Number of picks: 662
– Rate of choosing the upper floor: 0%
– Rate of choosing the lower floor: 100%
In the Genshin Impact community, there is always a concept that has been passed around by word of mouth among gamers that "Any team with the word National is also strong." and this concept proved to be true once again with the Nahida National team. Possessing an overwhelming number of picks compared to the top 2, Nahida National with a combination of Xiangling, Bennett and Xingqiu has easily conquered the community thanks to her already famous ability to activate elemental reactions and continuously grant seals. , now when combined with Nahida, this ability will be enhanced to a higher level and is ready to declare the 3 Apostles of the Abyss is just a few monsters with elemental armor.
Don't forget to follow MGN.vn to update the latest news about Genshin Impact right now!