A gamer came up with the initiative to combine Genshin Impact characters with the hair of characters from Honkai Impact 3 and the results turned out to be quite surprising.
A Genshin Impact player has created some interesting concepts that combine playable characters with characters from Honkai Impact 3rd, another popular HoYoverse title. Both games feature a gacha system for obtaining characters and weapons to allow players to diversify their lineups in the game.
A long time ago, Genshin Impact was also said to reuse many character models from Honkai Impact and even some of them kept the same name such as Raiden Shogun, Yae Miko, Thien Ly, … This can also be considered as one of the small but extremely interesting details to connect the fans between the two games together.
Reddit user u/CWhardKnight created a set of different concepts that combine the game's playable characters with the hairs of random characters from Honkai Impact 3rd. Fans seem to like the idea as the theme has already gathered over 8.5k upvotes on Genshin Impact's official Reddit sub.
According to the comments section, the new version of Yoimiya seems to be a fan favorite. Her new design is inspired by Yae Sakura equipped with a Darkbolt Jonin battle suit. Yoimiya is a Fire-type bow-wielding character known for his strong point of dealing damage to single targets.
Many fans have pointed out that Raiden Shogun looks very similar to Honkai's Raiden Mei. This popular character was introduced in the second Inazuma update in September 2021. Since its release so far, Raiden Shogun has dominated the in-game meta as well as the overall sales rankings. Her two strongest points are probably her ability to adapt to almost any lineup in the game and the fact that she is a F2P friendly character so many gamers will definitely want to get her. .
>> MORE: Genshin Impact: Can trusting at Natlan be purely combative?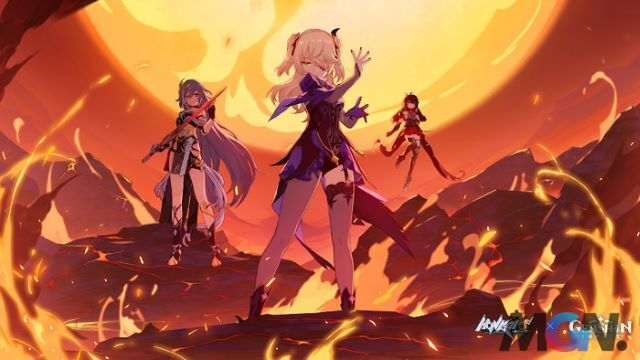 Don't forget to follow MGN.vn to update the latest news about Genshin Impact right now!