One of Genshin Impact's bright examples of overcoming difficulties certainly couldn't help but call out Kuki Shinobu's name when she had a successful "makeover".
Kuki Shinobu is a familiar name in many of the current Genshin Impact's "social top" lineups. However, if you are a long-time player, you will surely remember how much she was 'criticized' at the time of her debut for various reasons, although many gamers had expected her before. .
From a Kuki Shinobu 'everyone will criticize'…
Labeled as the first Lightning-type healer, Kuki Shinobu at first could only humbly stand as a support for squads that were also unpopular at the time of launch like the Eula carry lineup.
A little less flop are the Inductive teams, but in terms of the ability to create the Thunder seal to maintain the Inductive reaction, Kuki has to call Fischl C6 or Beidou by name, not old enough to sit on the same tray.
This girl is also "criticized" by many gamers because of her gift of increasing the amount of healing based on Elemental Mastery, which is one of the stats that many gamers never want to see because they think it's… waste . But my friend, the game doesn't have anything bad, only you.
The pick rate in the La Hoan seasons at the beginning of Kuki Shinobu's debut was relatively low and many gamers thought that it must have been the fate of a character with a mixed set of stats.
I don't know if I should be sad or happy, but thanks to the launch of the element Thao, the Elemental Mastery suddenly became a cosmic quintessence, which gamers love and with it are the characters that can take advantage of. All these stats are good enough to enter the meta game, and Kuki Shinobu is one of them.
When Sumeru launched, Elemental Mastery gradually became one of the top priority stats that no gamer wanted to ignore and they started rushing to farm the relic of Mastery, which was almost impossible before. If it's not farming for Kazuha or baby 'Sugar' Sucrose, who is free to need that stat.
Also from here, gamers gradually 'taste' the delicious food called Blooming with Kuki Shinobu as the brightest star.
To a Kuki Shinobu 'thousands of people love'
So, why is Kuki Shinobu, who is suddenly a "disgraced" character, to suddenly become the preferred choice with the Blooming lineup that has always been the hot pick of so many La Hoan seasons? The answer is simple, because it's easy to play.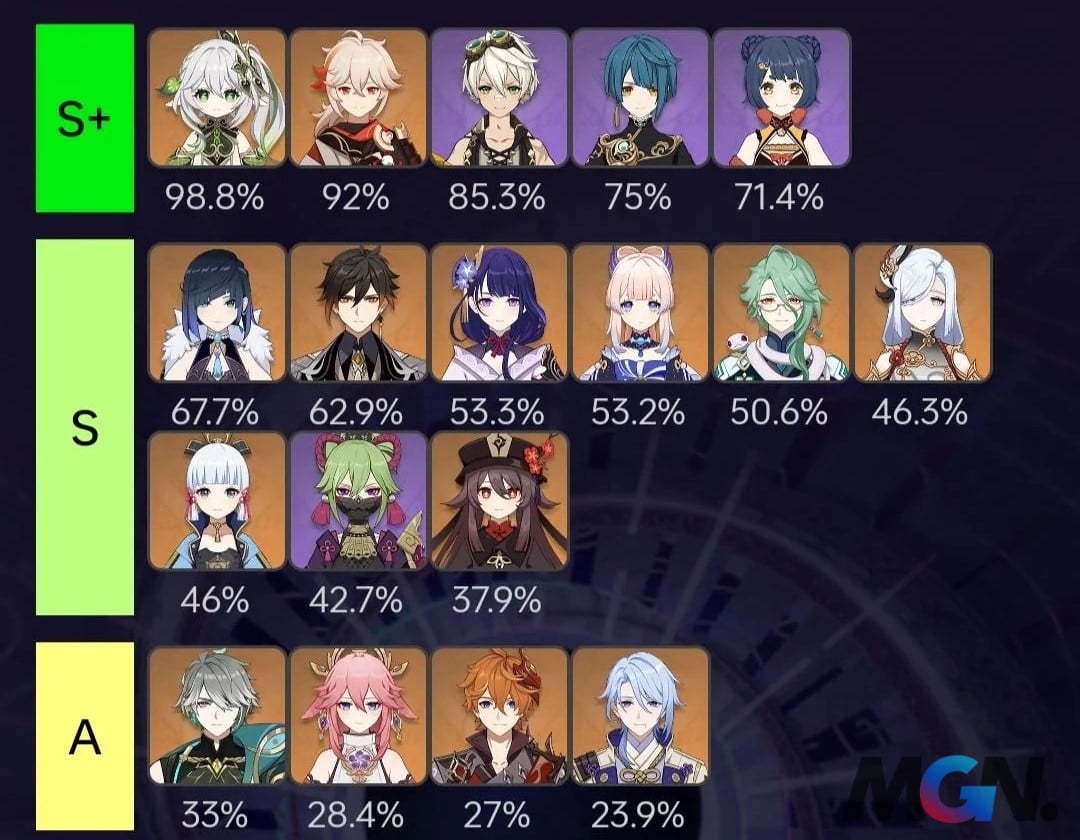 Need combo moves? Just make sure you have enough Grass and Water seals to create the Grass Core, and Kuki's Sacred Thunder Grass will take care of the rest.
Weapon for Kuki Shinobu Blooming? There are countless options that fit our budget like Toukabou Shigure, Iron Wind Striker, … but no one like a build healer. Many men who like 'gilding' hold the Ancient Vow of Freedom or the Key of Khaj-Nisut, but the Key is not very optimal, so I do not recommend it.
Need an index reference? The relic full of Elemental Mastery with a minimum of 800 Elemental Mastery or higher is already working well. If that's not enough, a threshold of about 650 to 750 is acceptable, otherwise, the Golden Dream set and Nahida's 'cage house' will make up for it.
What is the Elemental Load Efficiency for this team? With a Xingqiu built with enough stats to graduate, this NaXingKu squad only needs to meet Nahida about 120 recharge and Kuki about 120 recharge is enough to use, not counting the 4th slot that can be used with any character, like who just put it in to make the squad beautiful.
Destiny for Kuki? Basically, Kuki Shinobu in the Blooming squad does not require any Zodiac Sign, you just need to own a Kuki Shinobu is enough. But to optimize the combo time, trying to finish the Bow of Destiny 2 to increase 2 seconds for Elemental Skills is just beautiful.
>> MORE: Genshin Impact: 3 'delicious' characters are about to return, gamers should prepare primeval stones and a beautiful soul
This is not to say that Kuki Shinobu Blooming is without flaws. Any gamer who has experienced the squad with this girl knows that she will have the following problems:
1. Because of the full Tinh Thong build, the amount of treatment is not high, if there is no healer clamped, it is easy to fall into the 'death threshold' if not well controlled.
2. Without Nahida, it would be difficult to fully experience it because it is not natural that when it comes to Blooming, people will usually think of NaXingKu first, and Thao goes to the chicken coop.
3. As a 4-star character, not every gacha will be like a 5-star character, but sometimes it has to be exchanged for… many 5-star characters.
4. The Elemental Mastery mainline has a lower spawn rate on the holy relic than other stats so if you're not lucky enough, a 'poor childhood' is normal.
Epilogue
In short, with the momentum of development along with HoYoverse's 'sorrowful' buffs in recent La Hoan seasons, it is not difficult to see that when you play the seed team, you are already the "father" of La Hoan.
Therefore, a character with strong adaptability to the formations related to particle reactions will automatically be selected. Perhaps, HoYoverse itself did not think that one day, the brainchild that I made for gamers to use as a healer would turn into a DPS that would banish monsters in La Hoan like that.
Hopefully, through this article, it can partly give you a perspective on why Kuki Shinobu in general and the Blooming build in particular has become one of her 'righteous' builds.
And in case you prefer to play healer, that's okay with you. Thank you for reading this article and don't forget to follow MGN.vn to update my new Genshin Impact articles right away!