Investment is the same everywhere, but investing in the Water system, you will lose less. And if you lose, then read this fourth issue of Genshin Why for more confidence.
You may not know, but the Water system is the element that owns many of the most popular characters in Genshin Impact. My favorite here is not about the design, I am not talking about Yelan because mommy is definitely in love, but talking about their strength when combined with other characters.
You are a "vegetarian" gamer and resources are limited, so you can't build too many characters at the same time? Prioritize the Water system.
Are you considering the value of characters when operating in a squad? Trust me, the Water system will not let you down.
Do you like characters with "interesting" and "watery" storylines? Remember the Water system.
In short, the Water system is a very flexible system, just like the properties of the water it represents. And on the occasion of Fontaine, a country as "watery" as its main element, this fourth issue of Genshin Why will discuss why the Water system will definitely be one of the systems that gamers should not. omitted in Genshin Impact.
"Same element, same gameplay, same build"
Flexibility is one of the properties of water. It can take on any shape, but the essence is no different, unless you're comparing a soy sauce bottle with a fish sauce bottle. Basically, the build of Water-type characters in Genshin Impact will be similar.
While for the main DPS like Childe and Kamisato Ayato, it is possible to build with holy relic sets such as Tram Luan's Heart, Dream of the Fairy, … the characters have the role of sub DPS system. Thuy will usually use the Seal of Separation as her main relic.
The reason is because these characters possess strong support from their Rage Skill, as a sub DPS and Burst Support. Therefore, it can be said that the mystery of the Mark of Separation is one of the most economically valuable secrets, and how much time it takes to spend on a series depends on how much your dignity is.
As for supporting characters like Sangonomiya Kokomi or Mona, the simplest option that is being loved by many gamers is the Solid Thien Nham set.
The only case of using a holy relic other than his peer is Nilou. Because of the characteristics of the skill set, Nilou will be given priority to recommend the Lost Ornament Flower or Vourukasha Glow.
The element of Water is present in almost every strong lineup
70% of our body is water. But do you know what has more water than you? Those are the strong lineups in Genshin Impact. Most of the most popular squads in the game according to La Hoan Tham Canh's data in recent versions have at least one Water-type character in the team.
What do we have first? We have the National trio with Xingqiu as the indispensable face. National can be said to be the standard "National" lineup that every gamer can't refuse. As for the reason why they still do not "evaporate" from the game's meta, you can watch the third issue of Genshin Why to learn more.
>> MORE: Genshin Why #3: Why doesn't HoYoverse release more 'universe-class' Support?
A Sum Sue squad? The Water system must be present because otherwise, there is nothing to create Grass Cores to fight monsters.
Frozen lineup stormed through many seasons La Hoan? Water-type is still a must-have besides Ice-type DPS like Kamisato Ayaka.
What about Evaporation Reaction? The Evaporation Reaction can greatly amplify the damage of the main DPS and Hu Tao is one of the outstanding DPS with this reaction. However, Hu Tao without Xingqiu or Yelan, how will it evaporate in time?
It can be said that, from strong reactions to damage or strong control, there are water characters involved. Although it does not directly create strong damage, but without the Water system, you will certainly not be able to create the "miracles" as above, just like your body cannot live without water, so remember. Drink 2 liters of water every day regularly.
The Water system only includes the characters "overwhelmingly talented"
When it comes to "superior tycoon", we will immediately think of the image of brothers with a colorful exterior and a lot of money inside. When applying it to the Water characters themselves, we can easily see that they all have huge profiles both in terms of family and fortune.
We have Tartaglia who is a genuine "warm boy" in the plot, just likes to travel around and punch each other for… entertainment.
The owner Kamisato Ayato in Genshin Impact is also known as the current head of the Kamisato family. Needless to say, this character is truly a "thick wallet, great family" in the legend.
Aunt Lan or Yelan to be exact with the standard demeanor of a hidden spy. However, despite the reputation of working under Ningguang, Yelan said she only does this job "for fun", not money is important.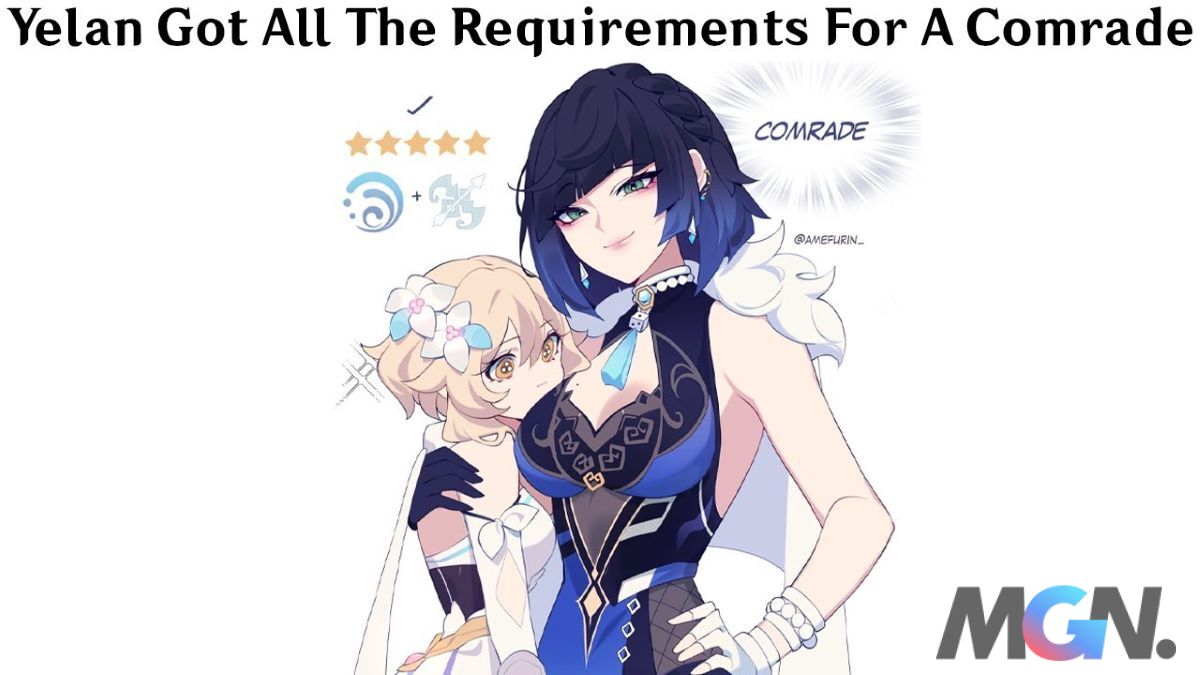 Xingqiu is the Second Young Master of the Feiyun Chamber of Commerce, one of the largest merchant associations in Liyue. At the same time, he is also a skilled swordsman and a famous novelist. His huge profile has made many gamers "admiring" because he is the standard of the sentence "Van Martial Song Toan".
Mona seems to be the only "poor monkey" in this cast of characters with gold-plated backing? Genshin Impact 2.8 has revealed to you that Mona is not actually "poor" like the way she appears to be, but in fact she is willing to spend 1 million Mora just to buy her favorite book (completed) then owe a few months of unpaid rent).
>> MORE: Genshin Impact: 5 Water-type characters that are the most 'raised without wasting rice' version 3.8
Gamers of the "I can eat anything" system? Should play Water system
If you ask a Genshin Impact gamer what team he likes to play on and get the answer "Anything is fine", suggest them to play Water-type characters because it's really a Water-type team.
Basically, when you invest in Water, you will usually have less "capital loss" than the rest because nearly every Water character has a place in the current meta.
When Inazuma came out, Lightning started to be used more and more. When Sumeru was released, the Grass system brought along the Elemental Mastery and the Lightning element to the "top of society" with him.
So, when Fontaine comes out, there's no way a certain Fire-type box-selling character would take the throne without a Water-type in it. Therefore, investing in the Water system from today and immediately following MGN.vn to constantly update the next number of Genshin Why is the way for you to "capture your destiny, explore the heavens".