Also known as the "sleeping shark," the Greenland shark is a giant predator and the longest living vertebrate known to us.
It can grow up to 6.4 meters long and live for more than 500 years, usually inhabiting areas below 2,200 meters deep and in frozen waters.
But despite its enormous size and long lifespan, little is known about this shark.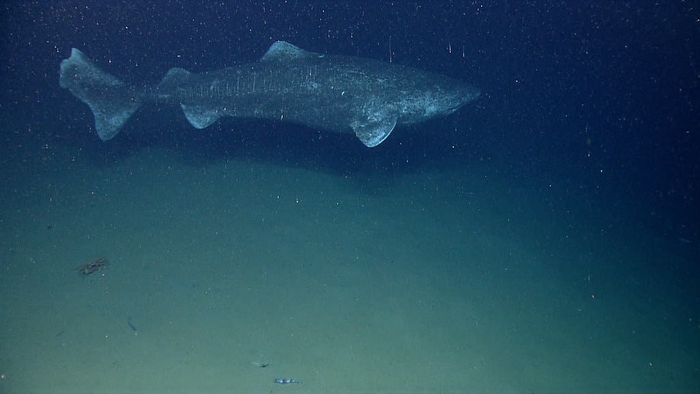 Going against the evolutionary trend of other sharks
Sharks evolved about 450 million years ago, before dinosaurs or even plants appeared. The Greenland shark is part of the ancient shark family, more than 100 million years old. This family is called Somniosidae, named after Somnus, the Roman god of sleep.
They are called sleeping sharks because they move very slowly through the water. The Greenland shark (Somniosus microcephalus) usually swims at about 1.2 km/h, the fastest speed is only 2.6 km/h. This is slower than most seals and fish, which has led some researchers to question how they were able to hunt.
In addition to their sluggish speed, their eyesight is also often impaired by parasites that attack their eyes. That leaves Greenland sharks mostly blind – but they can still navigate with their sense of smell.
In fact, most Greenland sharks are thought to be infected with a parasite (a species of flippers called Ommatokoita elongata) that affects their eyesight. Some researchers have even speculated that because the parasite is bioluminescent, it could form a mutualistic relationship with Greenland sharks by attracting prey, but this has yet to be proven. confirm.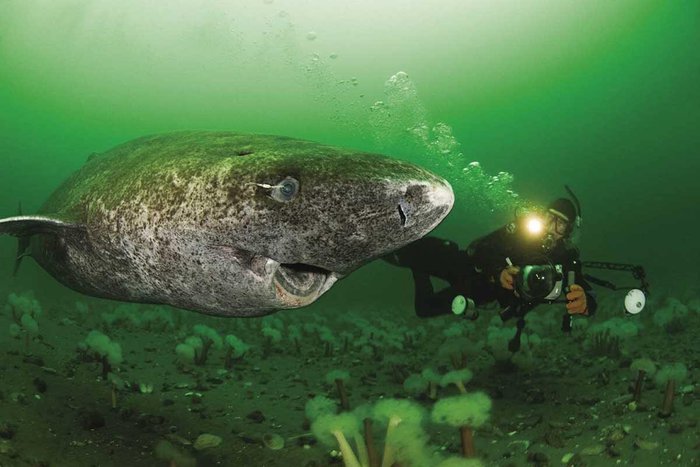 The Greenland shark also goes against the prevailing view of sharks: sharks need to swim constantly. In fact, some sharks, including the Greenland shark, can stay motionless for a while.
Most sharks need to swim continuously to bring oxygen-rich water to their gills, but some can still breathe while standing still. The Greenland shark's circulatory system is specially tuned for this, which can suck up oxygen when swimming at low speeds.
Its special adaptations also allow this species to survive in frigid waters, sometimes at sub-freezing temperatures (seawater does not freeze at the freezing point of freshwater).
But perhaps the most special thing about this species is the extremely slow growth rate and amazing longevity of the Greenland shark. They don't even reach sexual maturity until 150 years old and they can live to be over 400 or even 500 years old. This makes them one of the longest living vertebrates we know.
However, despite their size and lifespan, so far not much is known about the behavior and ecology of this species.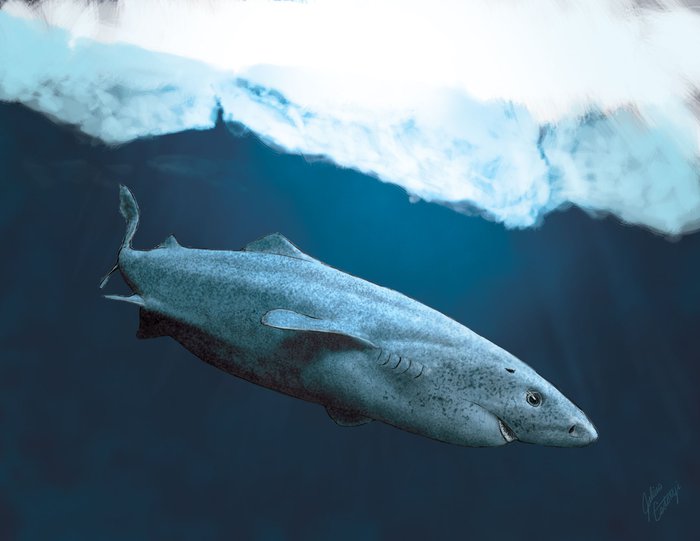 Slow but fearsome predator
Though slow-moving, the Greenland shark is a formidable predator – the apex predator on the ocean floor. It eats a variety of prey from fish and seals to whales and even reindeer or horses. A Greenland shark undergoing surgery has revealed the carcass of a polar bear in its belly.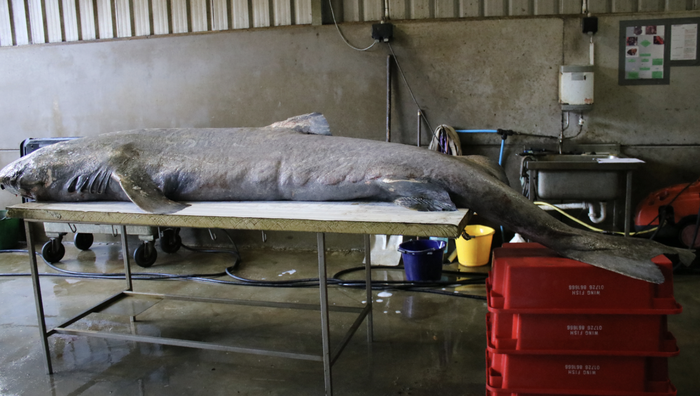 It is not clear whether Greenland sharks hunted and killed all of these prey or if they simply ate the carcasses as they fell into the ocean. There is some speculation that they are a scavenger. Scientists believe that its scavenging behavior and sharp nose allow the species to survive in frigid waters where there is not much prey. But because the Greenland shark is difficult to observe in its natural habitat, any conjecture has no scientific basis.
However, the Greenland shark doesn't seem to mind attacking large creatures. It was observed that the Greenland shark caught an elk, however the size of this prey made it almost suffocating (the shark was later rescued by humans).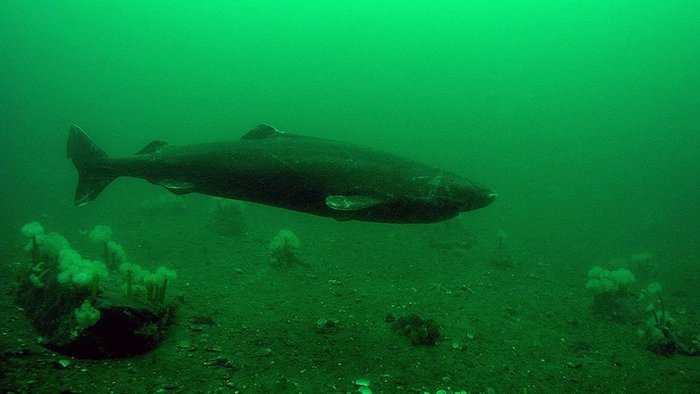 Like most sharks, once it has identified its prey, it will not give up the hunt easily. This shark has 48-52 teeth in the upper jaw and 50-52 teeth in the lower jaw – sharp teeth that help this shark to hold larger amounts of food. The sharks can move their heads in a circular motion. However, because they swim slowly, it is possible that they will hunt sleeping prey.
Additionally, despite being thought to be the apex predator, the Greenland shark may not be safe from other predators. In particular, sperm whales (Physeter macrocephalus) appear to be their frequent predators. Greenland sharks have been observed fleeing when they hear the call of sperm whales, and the researchers also found other indirect evidence that may indicate that some sperm whales regularly hunt Greenland sharks. .
Greenland sharks can live outside of Greenland
The name of this species can be deceiving. The Greenland shark, a solitary creature rarely seen in groups, is a long-distance swimmer and has been spotted anywhere from eastern Scandinavia to the Caribbean.
This shark can also dive remarkably deep, having been discovered in the Gulf of Mexico at a depth of 1,749 meters, where the water temperature is 4.1 degrees Celsius. This shark seems to rarely move to depths below 1,500 meters. , but it doesn't mind diving when it finds its favorite cold water environment (minus 0.6 to 12 degrees Celsius).
Despite their reputation for being aggressive and large, the Greenland shark is not a threat to humans. Although some cultures have stories of humans being attacked by Greenland sharks, there is no record of this happening (it could also be because sharks prefer cold waters where humans are rarely seen. while swimming). In addition, Greenland sharks often actively avoid contact with humans.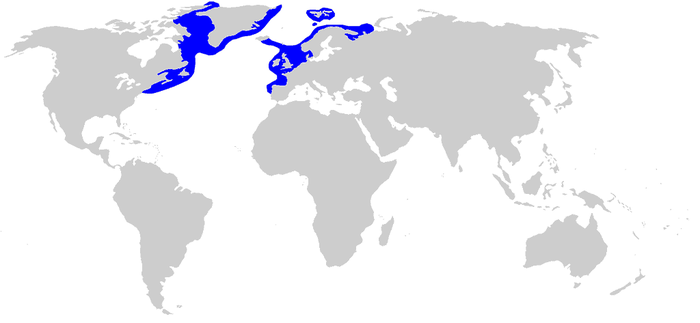 According to some estimates, the Greenland shark can give birth to more than 200 babies at once. These sharks are about 35 to 45 centimeters long when they are born and as mentioned, it will take them more than a century until they are mature enough to breed their own offspring.
However, not much else is known about their reproduction – scientists still don't know how many of them survived.
The gestation period of this species is also very long: one study estimated a gestation period of 8 to 18 years but this is controversial because we do not have enough important information. about this species.
The Greenland shark is an extremely strange species. Despite the efforts of researchers, it remains a fascinating and mysterious creature on the ocean floor.
Researchers don't really know why these sharks live so long, or what their relationship to other predators is…
We have discovered very few of the ocean's mysteries, and it would be a pity to push these animals to extinction before we have had a chance to fully understand them.
Original post: https://gamek.vn/ca-map-greenland-mot-sinh-vat-bi-an-va-hap-dan-cua-dai-duong-178221217213739354.chn
Original Post: https://otakugo.net/ca-map-greenland-sinh-vat-bi-an-va-hap-dan-cua-dai-duong-117702.og
Website: https://otakugo.net/