According to player calculations, they can get a total of 81 free rolls in the upcoming new Honkai Star Rail 1.1 version.
Less than a day left, Silver Wolf banner as well as Honkai Star Rail 1.1 version will officially open for gamers. With the participation of completely new characters such as Silver Wolf, Luocha and Yukong all highly appreciated by many 'mage' or leakers, players are now very interested in the number of Starlight Gems they have. plowable in this version. In addition, for players who spend on Glory of the Anonymous (battle pass) and Ancient Dream (monthly pass), the number of Starlight Gems and Special Planet Tickets they receive will be more. furthermore.
Specifically, the community has passed on an infographic estimating the number of Starlight Gems that players can receive in Honkai: Star Rail version 1.1. As shown, a total of 12,920 Starlight Orbs can be obtained through the permanent and limited contents of this version, which equates to 81 Special Planet Tickets. From the infographic, we can estimate that the player can get 2,520 Starlight Gems in the daily quest, this is also the most fixed and easiest source of Starlight Gems in the game that players should not ignore.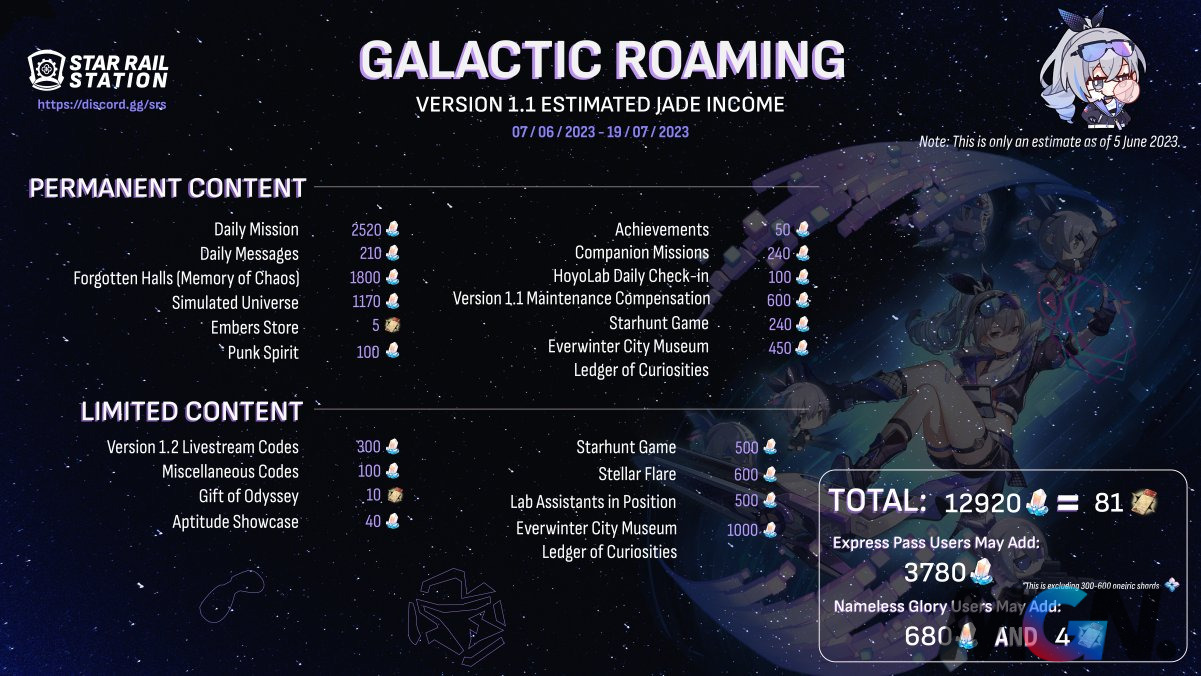 Other sources including the Chaos Memories of the Hall of Forgottenness will also provide 1800 Starlight Gems to the player. Players will be able to receive Starlight Gems in simpler ways, such as 210 Starlight Gems from daily messages and 100 Starlight Gems from HoYoLab Daily Check-in.
Through limited content, players can earn 600 Starlight Gems in one of the upcoming release events and other limited-time rewards. The event will also offer character trials, allowing players the chance to experience new playable characters. The main event of Honkai: Star Rail 1.1 version will give players 1,000 Starlight Gems.
>> MORE: Honkai Star Rail: 3 reasons the Silver Wolf is the perfect puzzle piece for you
This is the largest number of Starlight Gems a gamer can receive through limited content. In addition, the infographic also shows that players who have registered for Ancient Dreams will receive an additional 3,780 Starlight Gems, and for Anonymous Guest Glory, the additional number will be 680 Starlight Gems and 4 Special Planet Ticket.
Don't forget to follow MGN.vn to update the latest news about Honkai Star Rail now!