The challenge from World 7 in Honkai Star Rail 1.2's Simulated Universe will require players to grasp the combat mechanics with the right squad.
The latest Honkai Star Rail 1.2 update has a bunch of new content, including character banners, new discovery areas, exclusive events, and more. Among them, Simulation Universe's World 7 has created a huge buzz in the community for not only bringing in new gear, it's also blowing a breath of fresh air into a community of gamers who are eagerly anticipating new content.
What it brings promises is a completely new challenge for players. However, not everyone can afford to overcome the difficult content of World 7 in the Simulated Universe in the current version of Honkai Star Rail 1.2.
Therefore, a list of suggestions for the most suitable squads will probably help gamers who are stuck with the challenges here. In this article, MGN will suggest you the 3 most suitable formations to overcome World 7 of the Simulated Universe in Honkai Star Rail 1.2 version right away.
Suggested line-up to cross World 7 of the Simulated Universe in Honkai Star Rail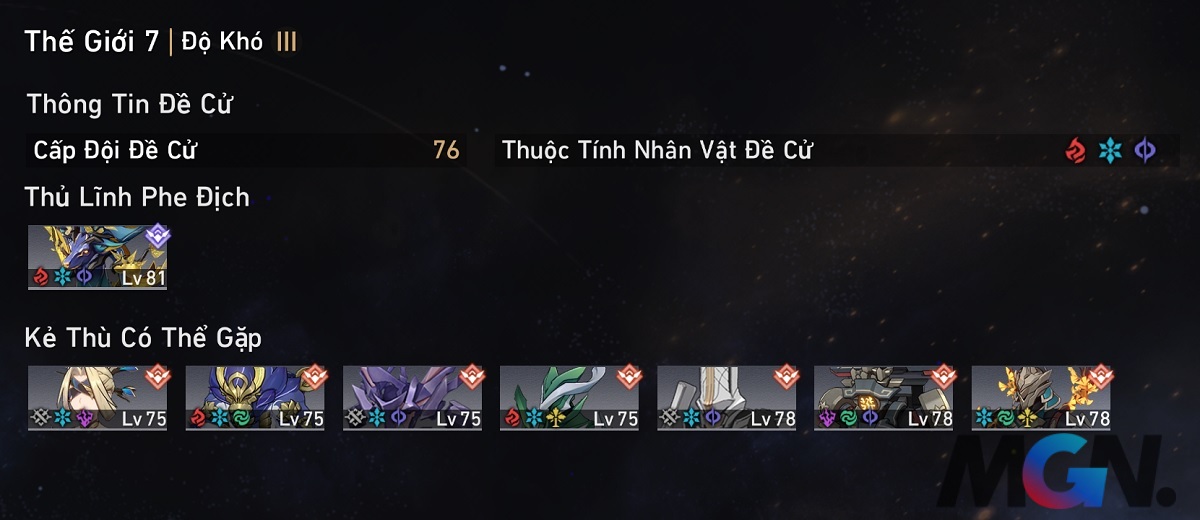 In order to determine the best formations for this challenge, one of the important things to pay attention to is that gamers need to analyze their attribute strengths and weaknesses. After understanding the weaknesses as well as the fighting mechanism for the enemies, it is easy for players to imagine what they need to have in the challenge squad in Honkai Star Rail.
1. Yanqing, Silver Wolf, Clara and Luocha
Yanqing with Hunting destiny can easily become a single target DPS in Honkai Star Rail. He's a prime candidate for the strongest squads in Simulation Universe 7's World 7 as most enemies, including the final boss, have an Ice Attribute Weakness.
While the Silver Wolf can lower enemy defenses, Clara will act as a tanker in this squad, allowing Yanqing to maintain his Sword of Wisdom. In the end, Luocha will keep the team alive with his incredibly powerful healing app.
In case you don't own Clara or Luocha, the Discoverer as well as the rest of the healer characters can also be a pretty good alternative.
2. Seele, Gepard, Asta va Bailu
Seele is another good choice when it comes to teaming up for World 7, as some of this challenge's enemies will have a Quantum Attribute Weakness. The huge amount of damage that Seele can create can completely "carry" you through the most annoying challenges of the game.
However, Selee will need a source of support to ensure her survivability because her weakness is her weak defense. Not only that, as a main DPS, Seele will definitely need strong support from teammates to help increase his damage in Honkai Star Rail.
Therefore, the best candidates in their ability to support will be Gepard, Bailu and Asta. Gepard and Bailu are out of the question, but for Asta, you can substitute for Bronya because their support can help Seele take advantage and take his turn faster.
3. Qingque, March 7th, Asta and Natasha
For F2P players, you can use Qingque as the main AoE DPS along with Asta to take advantage of her Attack buff as well as her Speed ​​boost. Qingque has long had a reputation as a strong brick-fighting DPS character, but gamers will need to understand how her kit works.
>> MORE: Honkai Star Rail: Who should I choose between Blade and Kafka in version 1.2?
While March 7th's shield can protect allies in critical situations, her Ultimate Skill and subsequent attacks can shatter enemy durability. For Natasha, her role is to heal and can assist in dispelling effects for teammates, thereby helping them miraculously escape the "death threshold".
Above are suggestions for the 3 best formations to use to overcome Simulation Universe 7. Don't forget to follow MGN.vn to stay up to date with the latest Honkai Star Rail news!