Luocha is not a picky character, so there are many Light Hats in Honkai Star Rail that work very well when equipped for this character.
Banner Luocha is the newest limited character banner for Honkai Star Rail 1.1. This character is currently being appreciated by many gamers because of his ability to heal outside of his turn. Because of its strong compatibility with squads that need shock-resistant healers, Luocha is very sought after and because of that many gamers will be curious to know which Light Cone will work well on this character.
If you are learning about the gameplay and especially the Light Hat that is most suitable for Luocha, MGN will suggest you the 5 best options currently for this character in Honkai Star Rail 1.1 version in the article below. here you go.
5. Honkai Star Rail Post-Surgical Talk
Post-Surgical Talk is the best Light Hat for Natasha in Honkai Star Rail. However it also works quite well on Luocha. Although this character's Ultimate Skill will not create any healing so the effect on the Light Cone will not be fully utilized, the amount of mana regeneration added is also immeasurable. in favor of Luocha allowing him to activate his gifted barrier faster.
4. Just in Time
There is an unwritten rule in the Honkai Star Rail community that when you see a character appearing in a Light Cone, there is a high chance that Light Hat will be that character's "town". Just In Time is one of the Hats of Light that is said to fit Luocha because… it has the character's image on it. Besides increasing the Effect Resistance which makes Luocha more resistant to crowd control effects, this Light Cone also increases the amount of healing based on Luocha's Effect Resistance so it would also be a good choice. help gamers take advantage of the Effect Resistance on Luocha more.
3. Same Mood
This is a very good pick for Luocha because it not only increases the character's healing but also restores the entire faction's mana, which is a hugely beneficial effect when Luocha will also need to cast Battle. My skills are quite a lot to create a barrier to help heal allies.
2. Time Doesn't Stop
Bailu's "Town" also works very well when equipped with Luocha. Although the extra HP only gives Luocha more resistance due to being a healer with a coefficient of Attack, but since it is a 5 star item hence the basic stats this Light Hat provides will also be slightly better than other 4-star Light Cones. Not only that, when equipped with this Light Hat, Luocha can create additional value along with supporting additional damage outside of the turn for allies.
>> MORE: Latest Code Honkai Star Rail 1.1 update launched with Luocha banner
1. The Echo of the Coffin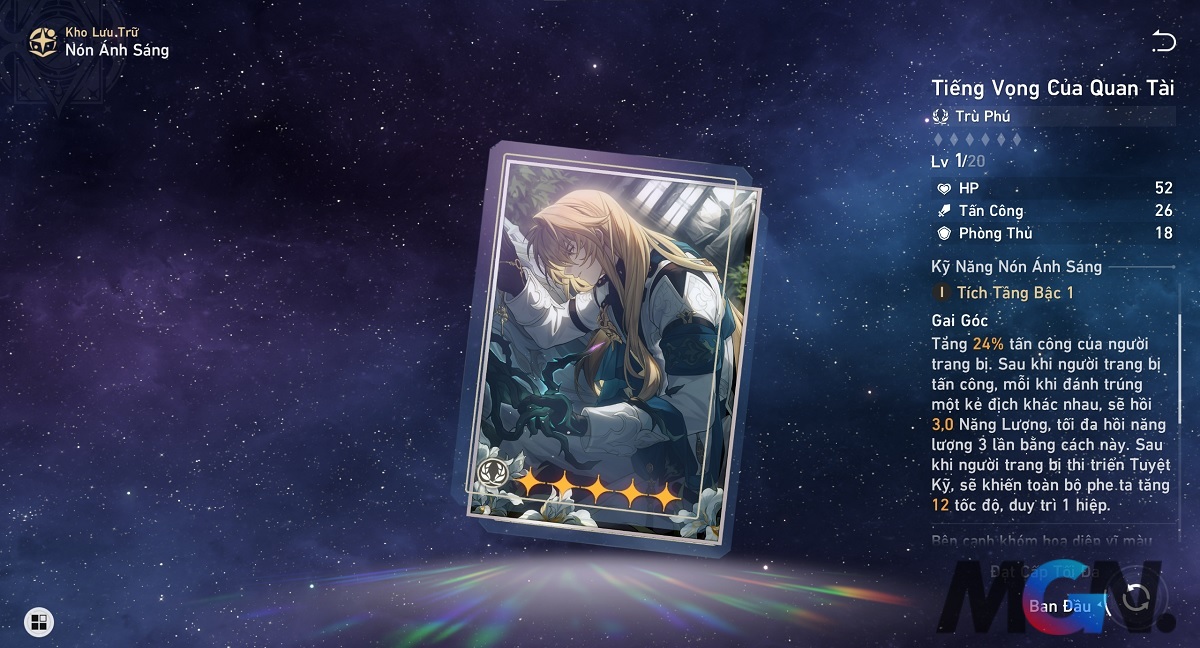 It's no surprise that Luocha's "town" is at the top of this list because it fits perfectly with Luocha's skill set. Not only strongly increases attack, when hitting the enemy, Luocha will gain energy for Ultimate Skill and when using Super Skill, it will buff Speed ​​for the whole faction so this will definitely be the best Light Hat for the character. This.
Don't forget to follow MGN.vn to update the latest news about Honkai Star Rail now!