Among the upcoming characters in Honkai Star Rail, the youngest of the Landau sisters, Lynx, is also among the characters introduced by the leakers.
Lynx appeared in the Honkai Star Rail trailer at the time of the game's launch, but she has yet to officially appear in any scenes in the game. The crisis in Belobog has now been resolved, however there are still a lot of characters that remain unknown (both as playable characters and in the region's storyline).
Lynx, a member of the old Landau family, is the younger sister of Serval and Gepard. Most of Lynx's playable skill set has been compiled and released by leakers for the community to reference, thereby helping gamers to somewhat visualize the gameplay as well as how the character works when playing. She officially debuted.
What are Lynx's rarity, destiny, and attributes in Honkai Star Rail?
Lynx is revealed to be a 4-star character and has the ability to manipulate Quantum attributes. Also, Lynx's destiny will be the destiny of Wealth, so her skill set will act as a healer on the team. Along with Lynx, Honkai Star Rail will have a total of 5 characters with a destiny of Fortune including the character that has been released and revealed by leakers, those characters are Natasha, Bailu, Luocha and HuoHuo.
Based on other additional sources, leakers say that Lynx is an adventurer who loves adventure and has traveled throughout the frozen Belobog. She is said to possess a calm demeanor and strong sense of initiative. Currently, information on Lynx's release date is unknown, at least in the near future so it will probably be a long time before Lynx is officially launched in the game.
Lynx skills in Honkai Star Rail
As a Trophy character, Lynx will certainly play an important role in many lineups. The character's skill set also involves removing any negative effects from allies, similar to Natasha or HuoHuo.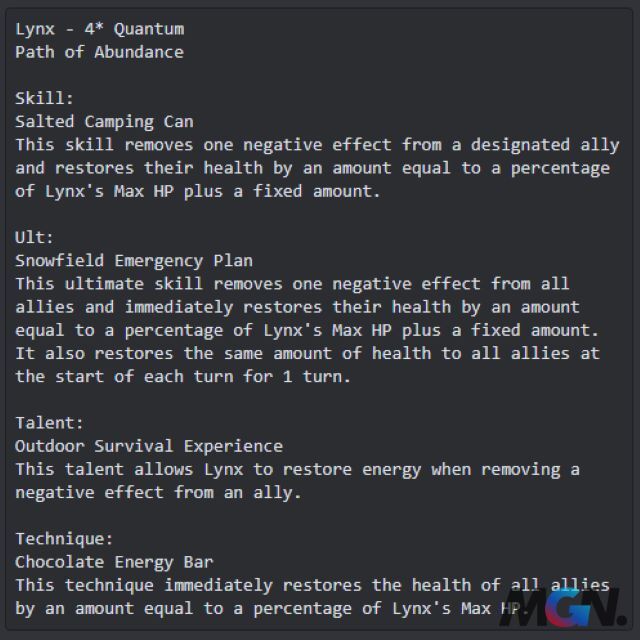 Leaker Mero is one of the pioneering leaks that provides the community with complete information about Lynx's skill set. Gamers can quickly refer to how they work:
– Combat Skill: Removes bad effects and heals allies based on HP.
– Special Skill: Removes bad effects from all allies and heals them based on HP. The same healing will happen for an extra turn.
– Thien Phu: Restores mana based on debuffs removed from allies.
– Secret Skill: Restores HP of all allies based on HP.
>> MORE: Honkai Star Rail continues to generously give players another 10 rolls at 1.2
In addition, gamers can also find an image of Lynx in an existing Hat of Abundant Light in the game called The Warm Night Will Quickly Gone with the image of her sitting by the fire with Pela. This suggests that the relationship of these two characters could be friends because both Serval and Gepard have been working on the Silver Mane Iron Guard along with Pela.
Don't forget to follow MGN.vn to update the latest news about Honkai Star Rail now!