The two new 5-star characters of Honkai Star Rail 1.1 will be Silver Wolf and Luocha, so which of these two great characters should be chosen, let's find out with MGN.
After launching two extremely powerful DPS characters, Seele and Jing Yuan, Honkai Star Rail's update 1.1 will release three new characters focused on supporting roles. These three characters include Silver Wolf, Luocha and Yukong. While Yukong is not a limited character and players can get her and the Souls in upcoming updates, many players may have a hard time deciding which they should pick. Silver Wolf or Luocha is instead reserved for the confirmed limited characters of version 1.2 such as Kafka and Blade. So if you are also pondering the same, then let's find out with MGN how to make a decision in the following article.
Silver Wolf or Luocha in Honkai Star Rail 1.1?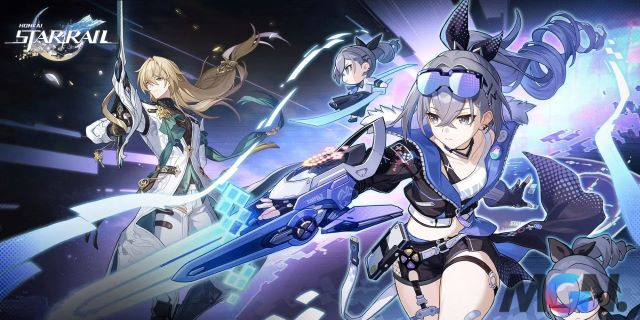 This 1.1 update gives players a significant amount of Starlight Gems and other bonuses, which may affect whether they'll start considering both characters. However, for those who prioritize resource conservation, the decision-making between Silver Wolf and Luocha carries considerable weight.
Silver Wolf and Luocha will bring their own values ​​to the lineups they join due to their different roles. Factors such as the team's specific role requirements, ease of construction without consuming too many resources, as well as the respective strengths and weaknesses of the character, are important considerations for players. play before deciding which character to choose.
Role
As a Void character, Silver Wolf mainly focuses on inflicting adverse effects on enemies, thereby allowing the team to deal more damage. She possesses the ability to reduce defense and open more attribute weaknesses to enemies based on the attributes available on the team. When effectively built, Silver Wolf can also act as an extra DPS and assist in breaking weak points more easily, as she can hit enemies with all her abilities. Also, if Silver Wolf's Secret Technique is used before the start of battle, she can reduce the Stamina of all enemies regardless of their weakness.
Meanwhile, Luocha, a Trufu character, will act as a healer character for his team. However, it is worth noting that Luocha's healing mechanism is different from the existing heal characters in the game. Luocha's healing is more focused on single targets and slightly harder to control. This is because Luocha's healing is dependent on his skill – which is a single target skill, and especially the Boundary area that Luocha deploys after accumulating 2 floors of White Flower Moment. , can be activated after using a Combat Skill or Ultimate Skill, and so it can take time before it can be deployed unless the player uses Luocha's Secret Skill before the start of battle.
Unlike Bailu and Natasha, Luocha does not heal with her Ultimate Skill. Instead, Luocha's Ultimate Skill allows him to remove 1 random buff from all enemies and deal Fantasy Damage to them. On the other hand, Luocha's Boundary allows him to heal any ally that attacks an enemy, and with his breakthrough Combat Skill, Luocha can also heal other allies for a smaller amount when they attack. In addition, Luocha's First Soul will provide attack buffs to all allies, also a very beneficial choice.
Build Silver Wolf vs Build Luocha
While the Silver Wolf will only be able to use a set of Relics that are Outstanding Geniuses with specific requirements for Effect Accuracy, Speed, Recharge Efficiency, etc., Luocha usually only requires requires a high Attack stat to ensure his healing. Because Luocha himself can also deal damage on his own, so if you don't already own a good set of Silent Wanderers, you can also use the Paddy Mark for him. In general, in terms of build, MGN assesses that the Silver Wolf build will be relatively more expensive than the Luocha build.
Strengths and weaknesses of the two characters
While both characters are exceptionally strong in their respective roles, they will also have some downsides that players should consider when deciding which character to pick.
Silver Wolf's strengths and weaknesses
Strength
Weakness
– Ability to create adverse effects on powerful enemies
– Can support gamers who don't have many attributes for DPS
– Sub DPS possible
– Provides more options for the Quantum attribute which is currently quite a few characters in the game
– Can be difficult to build in the early stages
– Serves as an investment in the future as attribute singles are not yet effective due to the limited number of characters.
– The effect may not hit some enemies continuously
– Not effective against large groups of enemies as Silver Wolf only focuses on single target damage.
– Can get pressured on Combat Skill Points if facing too many enemies at once
>> MORE: Honkai Star Rail: Silver Wolf is the character with the closest interaction with gamers to date
Luocha's Strengths and Weaknesses
Strength
Weakness
– Strong healing, mainly single target.
– Can remove buffs from enemies and can also buff the team further through Soul.
– Extra DPS potential in addition to healing due to the high Multiplier and Attack rate.
– Less use of Combat Skill Points thus allowing other characters on the team to use their skills more effectively.
– Being a Virtual Number character is beneficial against some enemies as this attribute is currently the least character attribute.
– Easy to build because you don't need to focus on too many secondary stats
– Uncontrollable healing like Natasha and Bailu
– Thinner compared to other healers due to lower HP, easy to take down.
– Effective healing can take time to set up as Luocha needs to activate her Boundary after reaching 2 floors of White Flower Moment.
Conclude
Besides personal preference and after considering the above factors, there are some additional aspects that players should pay attention to depending on their future in-game goals and the considerations of their squad. .
Thus, gamers should choose Silver Wolf when:
– Already Seele and on the other hand are interested in building single-attribute squads, especially for the Quantum attribute because it is easier to ensure the ratio of attaching the Quantum attribute weakness to the enemy.
– Willing to invest in Silver Wolf as a long term investment and don't want to wait for her to rerun, because Silver Wolf's true power will be realized when more characters are coming.
– Invested in Bailu and Natasha and does not require additional healer.
– Likes Void characters and can find a suitable place for her in the team composition instead of Kafka or other Void or Harmony characters, as their team composition requires a DPS character , a healer and an additional flexible support unit based on the contents of the game.
In contrast, gamers should choose Luocha when:
– Don't own Bailu and don't want to wait long for another healer.
– Interested in solving end-game challenges, such as the Chaos Memories of the Hall of Forgottenness.
– Interested in having more Virtual Number characters in the team.
– Plan to roll Blade in version 1.2, because these two characters go well together.
Don't forget to follow MGN.vn to update the latest news about Honkai Star Rail now!