Although there are many similarities with Genshin Impact, Honkai: Star Rail still offers many differences to ensure a rich and not boring gameplay.
After the huge success of Genshin Impact, miHoYo has invested in many other projects and Honkai: Star Rail is one of them. This is the fourth installment in the Honkai series, using brand new characters along with alternate versions of the same characters from Honkai Impact 3.
Notably, although there are many similarities with Genshin Impact but Honkai: Star Rail still brings many differences to ensure a rich and not boring gameplay.
>> MORE: Why does Honkai: Star Rail receive enthusiastic support from Genshin Impact fans?
World Design
Both titles provide an exploratory game environment. However, Genshin Impact offers a huge open world. Meanwhile, the world of Honkai: Star Rail is a bit more limited.
Fight
Combat mechanics seem to be the most significant difference between the two games.
While Genshin Impact is primarily an action adventure game, Honkai: Star Rail relies entirely on a turn-based system. In battles, the player must make tactical decisions based on the character's abilities and enemy moves before taking any action.
Both games include Basic Attack, Special Skills and Ultimate. Similar to Genshin, Honkai: Star Rail also incorporates an element alignment system (such as Fire, Ice,…), but with a twist: No element has an advantage over the other. and enemies have more elements; No extra damage when exploiting an enemy's weakness.
Additionally, battles in Honkai: Star Rail do not begin until the player approaches an enemy manually, but with Genshin Impact, being within range of an enemy automatically initiates the fight.
Item system
One significant similarity between the two games is the Resin/Artifact system, called Energy/Relic in Honkai: Star Rail. In both games, the player uses a specific portion of their Energy to collect Relics/Artifacts from the game's domain-like areas, called Cocoons in Star Rail.
However, there is a slight difference between the two systems. In Star Rail, Relics has six stat slots (Head, Hand, Body, Feet, Neck, and Article), one more than Genshin's Artifacts.
Players can replenish their Energy using in-game materials to farm Relics and it has a maximum limit. It's important to note that Relics drop and their generated stats are randomly generated in Honkai: Star Rail.
gacha system
The gacha system in both games is almost identical, only the terminology used is different. Honkai: Star Rail uses "Warp" instead of "Summon", which costs 160 'gems' per summon. Similar to Genshin Impact, the summons in Honkai: Star Rail are divided into Limited and Standard banners.
The gacha mechanics are also said to be the same, with 90-pull pity for 5-star characters and 10-pull for 4-star characters. Light Cones has a 5-star rarity that drops within 80 Light Cones banner pulls, and alternate changes to the banner are expected with each update.
Furthermore, players can earn Undying Starlights and Undying Embers from making summons, which can be used to purchase additional in-game items.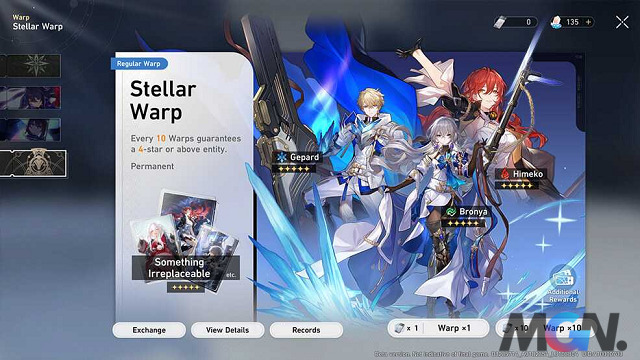 In order not to miss the news about the game village and domestic / international Esports in general, don't forget to follow MGN.vn regularly!