Many gamers will probably be curious to know who the characters appear in Welt's gacha animation in Honkai Star Rail.
Honkai Star Rail possesses many playable characters, of which perhaps the most attractive is Welt Yang. He is a senior member of the Astral Fleet and a seasoned combat character from the world of Honkai Impact 3. Prior to the events of Honkai Star Rail, Welt was known as the first Herrscher and leader. leader of the Anti-Entropy organization.
Sharp-eyed players will probably notice that Welt Yang's character portrait contains the silhouettes of many other characters not in the Honkai Star Rail universe. Four characters are observable in the background, all from his previous life in Honkai Impact 3rd. So who are those characters?
1. Void Archives
The antagonist of A Post Honkai Odyssey and the first Divine Key, the Void Archives, was created by Vill-V during the previous Era. After centuries of being Otto Apocalypse's tool and prisoner, he was finally able to escape – but inherited Otto's looks and manners in the process.
Due to both his relationship with Otto and his presence as a major antagonist in the part of Honkai Impact 3rd, he was included as part of the gacha animation for Welt.
2. Frederica Nikola Tesla
The fiery red-haired scientist and founding member of the Anti-Entropy organization, Frederica Nikola Tesla, has been described as one of the greatest scientists ever. She is friends with both Welt Yang and Einstein. Tesla has been described as impatient and often resorted to violence with foul language, especially when pressured.
Despite his rough appearance, Tesla still proves himself to be a great leader and inventor, saving the entire main cast of Honkai Impact 3 from countless dangers and remaining a close ally of Welt.
3. Lieserl Albert Einstein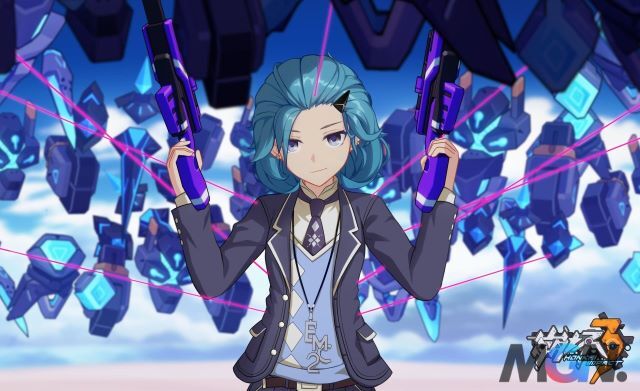 Lieserl Albert Einstein, or simply Einstein, was also one of the co-founders of Anti-Entropy, along with Tesla. She is a brilliant scientist and the complete opposite of Tesla because Einstein is somewhat cooler. Einstein was also a childhood friend of Welt and Tesla. She is responsible for many of the magical inventions featured in Honkai Impact 3.
>> MORE: Honkai Star Rail: Instructions to build General Jing Yuan
4. Welt Joyce
The first Herrscher, Welt Joyce, was the former leader of Anti-Entropy. He is Welt Yang's hero and is primarily responsible for shaping who Yang is today. Joyce died before the in-game events of Honkai Impact 3 in an attempt to save Joachim and New York from Otto. Joachim then inherited the core from Joyce, replacing him as the next 1st Herrscher. Welt Joyce was perhaps the most influential person in Joachim's life and made up a large part of Welt's gacha animation in Honkai Star Rail.
Don't forget to follow MGN.vn to update the latest news about Honkai Star Rail now!