If you don't own Seele in Honkai Star Rail, Qingque can also be a pretty good alternative, although it will be somewhat more difficult to master.
Honkai Star Rail's Qingque is a cheerful-looking girl who uses mahjong-like cards, and her playstyle will also revolve around these cards. Qingque is a four-star character that gamers can obtain for free after completing the 3rd floor of the Hall of Forgetting. As a character with the Quantum attribute, one of the attributes that is quite scarce in the game, Qingque will have certain formations and positions in the current game.
In order to make good use of Qingque, you need to know that Qingque's destiny is Knowledge. That means Qingque is capable of dealing damage to a group of enemies, and the amount of damage Qingque can do will depend a lot on how well you understand how her kit works.
Qingque's skill set
Qingque's attack buffs are based on a random selection of cards (you can see them under her icon on the screen) that she collects during battle. When she gets four matching cards, she automatically boosts her next attack.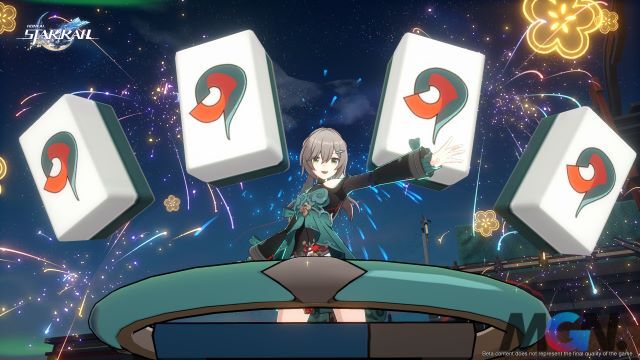 In general, Qingque's gameplay will be somewhat more complicated than that of other characters in Honkai Star Rail because her Combat Skill is more than simply casting and ending turns. Qingque can spend War Skill points to continue drawing Quynh Ngoc Cards and she will automatically attack after drawing 4 of the same Quynh Ngoc Cards. Qingque's attack will now be greatly enhanced and this is also the source of her damage.
The order of Qingque's skill leveling will be as follows: Ultimate Skill > Celestial Fortune > Combat Skill > Normal Attack.
Light Hat
Today Is A Peaceful Day (4 stars) will be the best selection of Light Hats for Qingque. In case you do not own this Light Cone, the Milky Way Night Train (5 stars), True Breakfast (4 stars) and Storage (3 stars) can also be very good options.
Relics for Qingque
The best Relic selection for Qingque at the moment would be the Outstanding Genius or the Paddy Mark. The Presence Kit for Qingque will be a Planetary Deviator that maximizes the amount of damage Qingque can deal in a single action. The main indicators to pay attention to will be as follows:
– Hat: HP
– Gloves: Attack
– Body: Aggressive Attack/Storm Damage Ratio
– Boots: Speed
– Link Chain: Energy Recovery Efficiency
– Orb of Presence: Increases Quantum Damage
>> MORE: Honkai Star Rail achieved huge sales after 10 days of release
The sub-indicators to pay attention to are:
– Attack
– Aggression Ratio/Violent Damage
– Speed
Don't forget to follow MGN.vn to update the latest news about Honkai: Star Rail now!