Just a few days ago, they were still at the 'top' of the League of Legends meta, but now the win rate and performance of these three ADCs are dropping too sharply.
League of Legends is increasingly expanding with a vast champion pool and a series of powerful equipment, so Riot Games always has to update its strengths and make many adjustments after each version. After each season, champions who prove to be too dominant will be considered for their strength to be reduced. And perhaps because of this edit, it accidentally took away the 'winrate chain' of many generals, the three ADCs below are one of the typical examples.
what
Lightning of Zaun was once an extremely outstanding figure in the Bottom Lane in both solo queue and the professional arena. But because of that unmatched strength, Riot was forced to put Zeri on the chopping block many times, not allowing her to bomb the meta. League of Legends too much too. But it seems that the publisher's punishment was a bit too harsh, so Zeri fell from the top to the bottom seriously.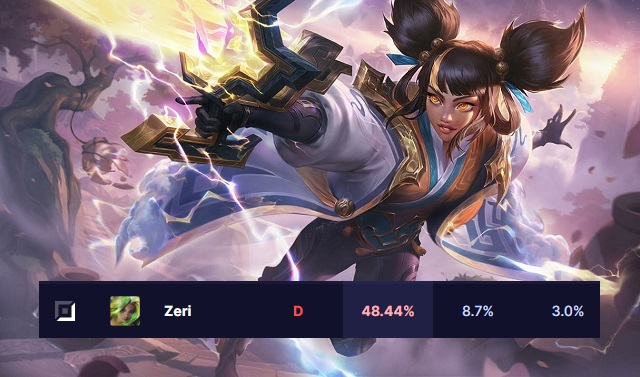 According to U.GG, Zeri is ranked 25th with a win rate of only 48.44% – a number that is too low for an ADC with high expectations like her.
SEE MORE: League of Legends: Mr. Ren spoke harshly in response to Dia1 after being mentioned in the livestream
Jinx
Following in Zeri's footsteps, Jinx also encountered bitter fruit no less what, after being stripped of his powers in the previous two versions. Jinx can now only be strong thanks to 'Support', in the early stages of the game, she has almost no voice. If you are unlucky enough to encounter 'counter' or lane-blocking bets early on, it will be very easy to get hit. Jinx's win rate has proven that she is ineffective.
Rebel Spell has the 2nd lowest win rate in League of Legends – 48.07%, only slightly better than Aphelios.
Aphelios
Finally, there is the 'stepchild' of Riot Games – Aphelios, It seems that this character's bombardment power in the beginning was too terrible, so perhaps now NPT nerfs to the point where Aphe 'can't raise his head'. Aphelios's win rate has always 'hit bottom' even though many versions have passed, this Gunner guy seems to be following the same path as 'Akacua' at that time. Hopefully in the near future, Riot will pay attention and give more power to Aphelios so that this general can restore his glory and escape from the bottom of society.
Aphelios currently only has a win rate of 47.67% – the lowest among League of Legends ADCs (according to U.GG)
Don't forget to follow MGN.vn to update more new information about League of Legends guys!