The hands of freelance artists and League of Legends fans always bring a lot of beautiful products that surprise the community.
For those who don't know, Julian del Rey is one of the extremely famous painters of Spain, this is also a 'hard fan' of League of Legends, so this artist often sketches and creates designs. new champion versions and 'fanmade' skins for the champions in this game. Looking at the investment and attractive designs, it can be seen how passionate Julian del Rey is for his products.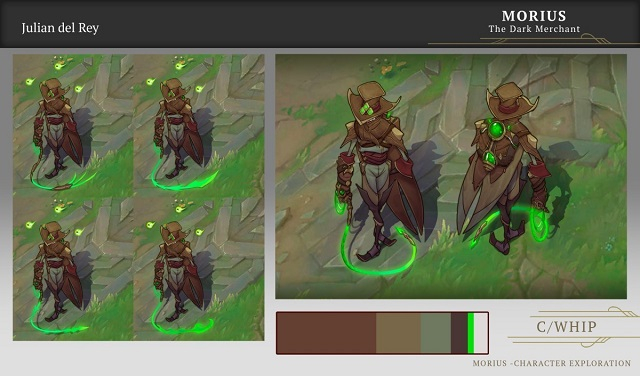 About 5 years ago, this artist sketched a new champion version, a very unique idea that made fans excited and they decided to 'dig' this idea as one of the How to get Riot Games interested in these super artworks for their champion design. The champion this artist created is named Morius – Dark Trader, and is an Assassin-oriented Support champion (like Pyke).
Morius is a skilled magician from Morius, he makes a living selling items he enchants or curses on it. This image of Morius's 'evil trader' further proves that he looks like a real Assassin.
SEE ALSO: League of Legends: 9 gameplay that might surprise you with the effectiveness of version 13.7
Morius from the famous underground city in League of Legends – Zaun, he uses dangerous drugs and mysterious technologies tucked away in the narrow, small and dark streets. Because of the same background, the appearance of this champion also has similarities with champions like Singed, Urgot, Twitch …
Morius is designed to resemble a winged insect (ant, cockroach, bug), he has powerful enchantment powers, capable of controlling fireflies to his liking.
Although Morius's skill set is not mentioned much, his designer has also come up with specific weapons for this general, including 4 items: energy whip, magic gauntlet, backpack worn on the back.
The Energy Whip can strengthen Morius' attacks, and can attack at close and mid-range – this is also the Dark Trader's most important weapon. The Magic Gauntlet is an item that can help Morius accumulate energy from the fireflies he controls, thereby creating powerful artillery shells. Finally, the most mysterious and powerful item is the backpack on his back.
Morius's Backpack can help this general gain tremendous power, and is also the ultimate weapon for this general, specifically, a new version of him will be launched and deal tons of kills. injure the opponent.
Don't forget to follow MGN.vn every day to update more news about League of Legends Please!