In the LEC Spring 2023 tournament, there is a champion of League of Legends who is dominating in terms of an impressive ban pick rate, and it even reaches 100%.
Annie is currently a card with unrivaled stats at the last 2023 LEC Spring tournament, however, this excellence of Annie no longer makes fans feel too surprised. Since the buff in League of Legends Patch 13.3, Annie has risen to become the most popular champion in Summoner's Rift in both solo and pro. More specifically, Annie's P&B ratio in this region is up to 100%, with 3 picks in Mid and 2 times in Support (according to Oracle's Elixir stats website by Oracle's Elixir). League of Legends).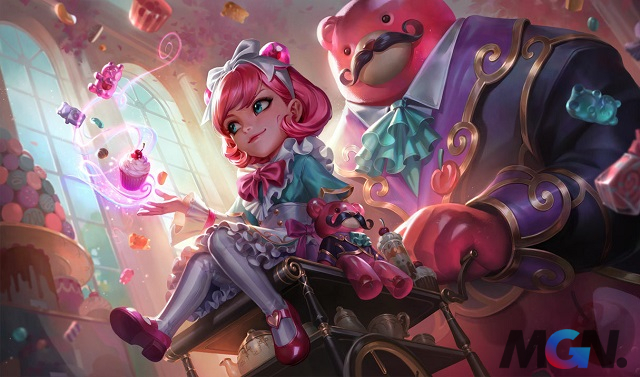 Annie selected in three games and has a 100% win rate, it can be seen that this champion has won all three matches. However, being in the Support position is less fortunate because it still doesn't have the same amount of power as Mid.
MORE: League of Legends: Players expect Riot to create more features for the expression system, but NPH seems too indifferent
In two knockout rounds LEC Spring 2023, we can see Annie's bombardment, this is also the only champion with a 100% P&B ratio here. That can be seen clearly in the series between Team Vitality and Team BDS yesterday. Annie's immense power and popularity suggest that she will continue to sweep the charts until the Spring Split is over.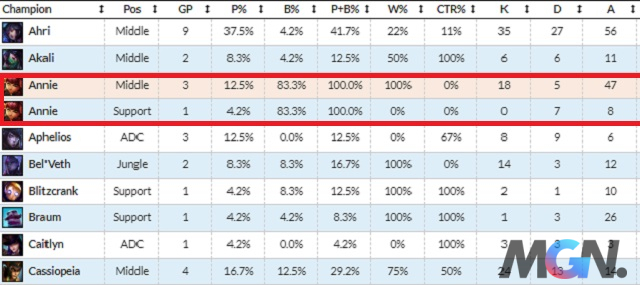 The remaining matches of LEC's Spring Split will continue to use updated version 13.6. That means Annie hasn't been nerfed yet (E is nerfed at 13.7), so the Shadow Child still has great potential for the rest of the time. It is not known if Riot Games will make any changes to Annie in the upcoming update 13.8, but currently, it can be seen that NPH's nerfs do not affect the pick and ban rate of NPH. Annie. Maybe in the tournament MSI 2023 In the near future, Annie will still be a name that attracts a lot of attention.
Don't forget to follow MGN.vn to stay up to date with 'out of sauce' information and images like this about the female generals of Vietnam. League of Legends Please!